Kanban views 
Kanban views are perfect for visualizing and moving records through the stages of your workflow.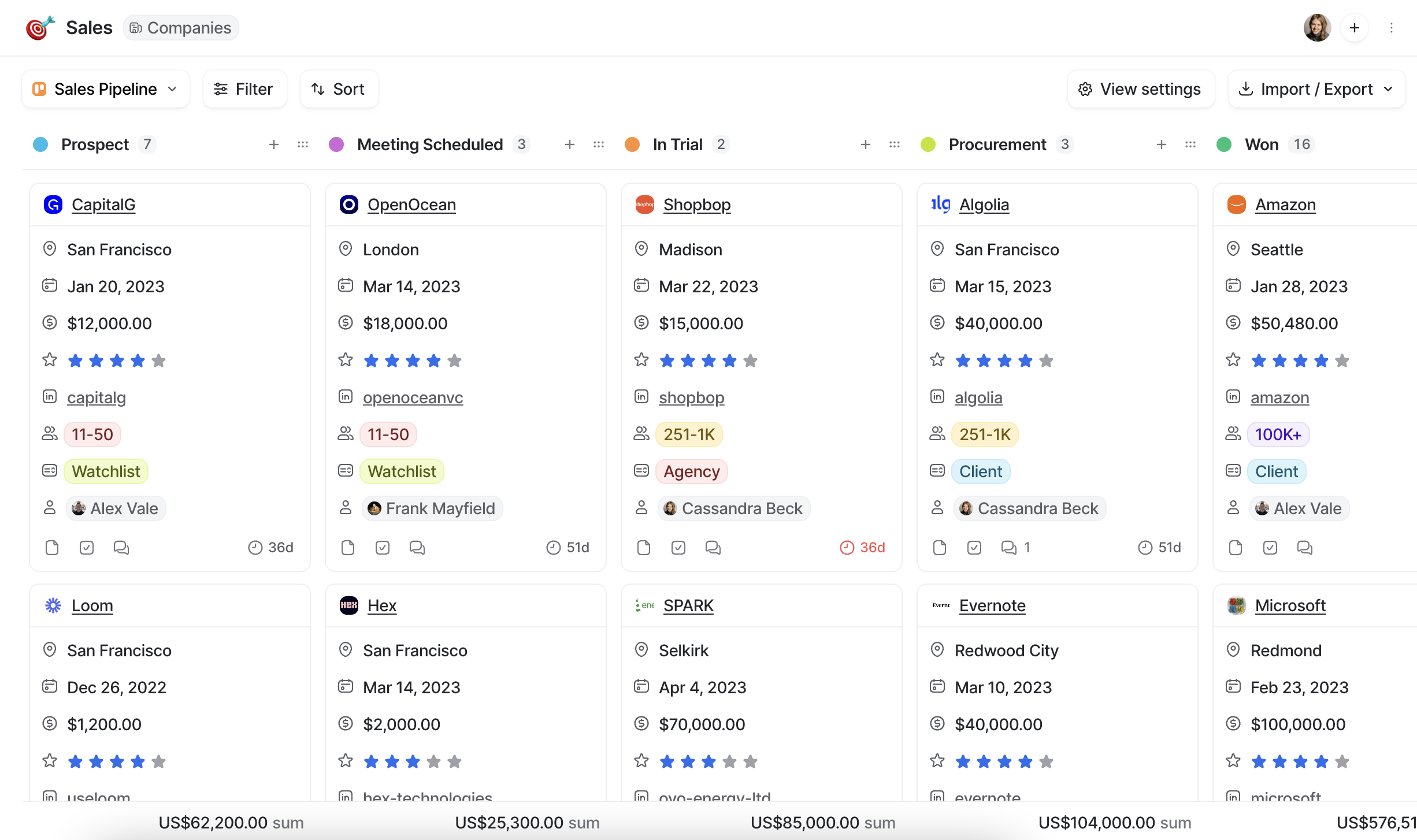 Using kanban views
Create a kanban view
There are two ways to create a kanban view:
1. When creating a new list choose Manual, followed by Companies or People. Under Start from scratch with a view choose Kanban
2. From an existing view Select + Create new in the view dropdown and select Kanban
Note: Kanban views require a status attribute to get started. This refers to the stages your cards will move through in a process e.g. Sales stage.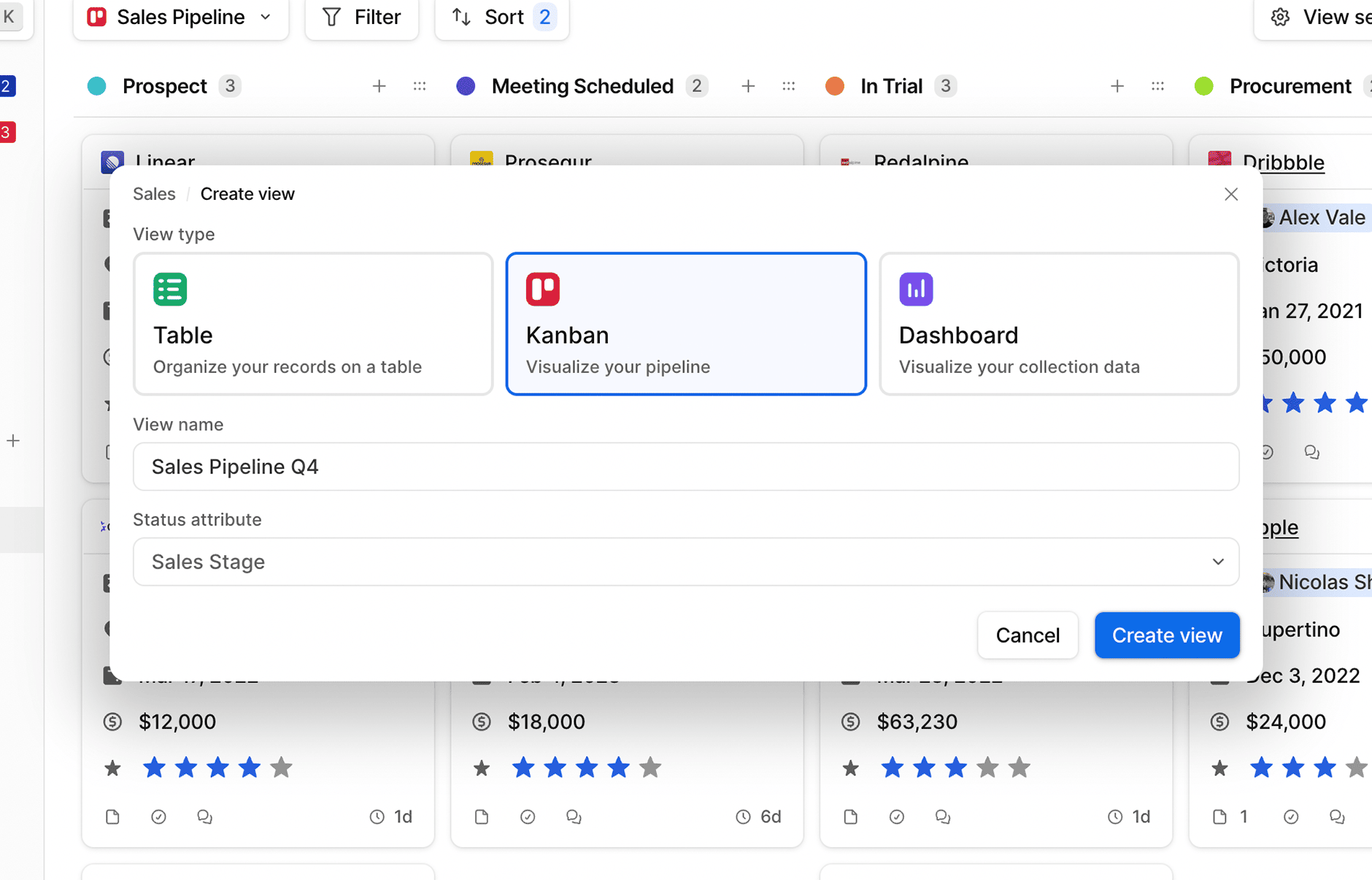 Hiding stages
Click a stage name followed by Hide stage to hide a stage in your view. You can also click View settings to re-order, hide, and add stages to your kanban view.
If you'd like to hide the No stage column from your kanban view, click View settings followed by Visible columns from the dropdown. Toggle No status to hide this column.
Bulk update stage for kanban cards
You can select multiple kanban cards in a view and move them from stage to stage. Hover over a card and check the box that appears in the top right corner to select it. You can also select a card, hold shift, scroll down, and select anoter card in the same stage to select all cards in between. You can then drag and drop selected cards to move them into a new stage simultaneously.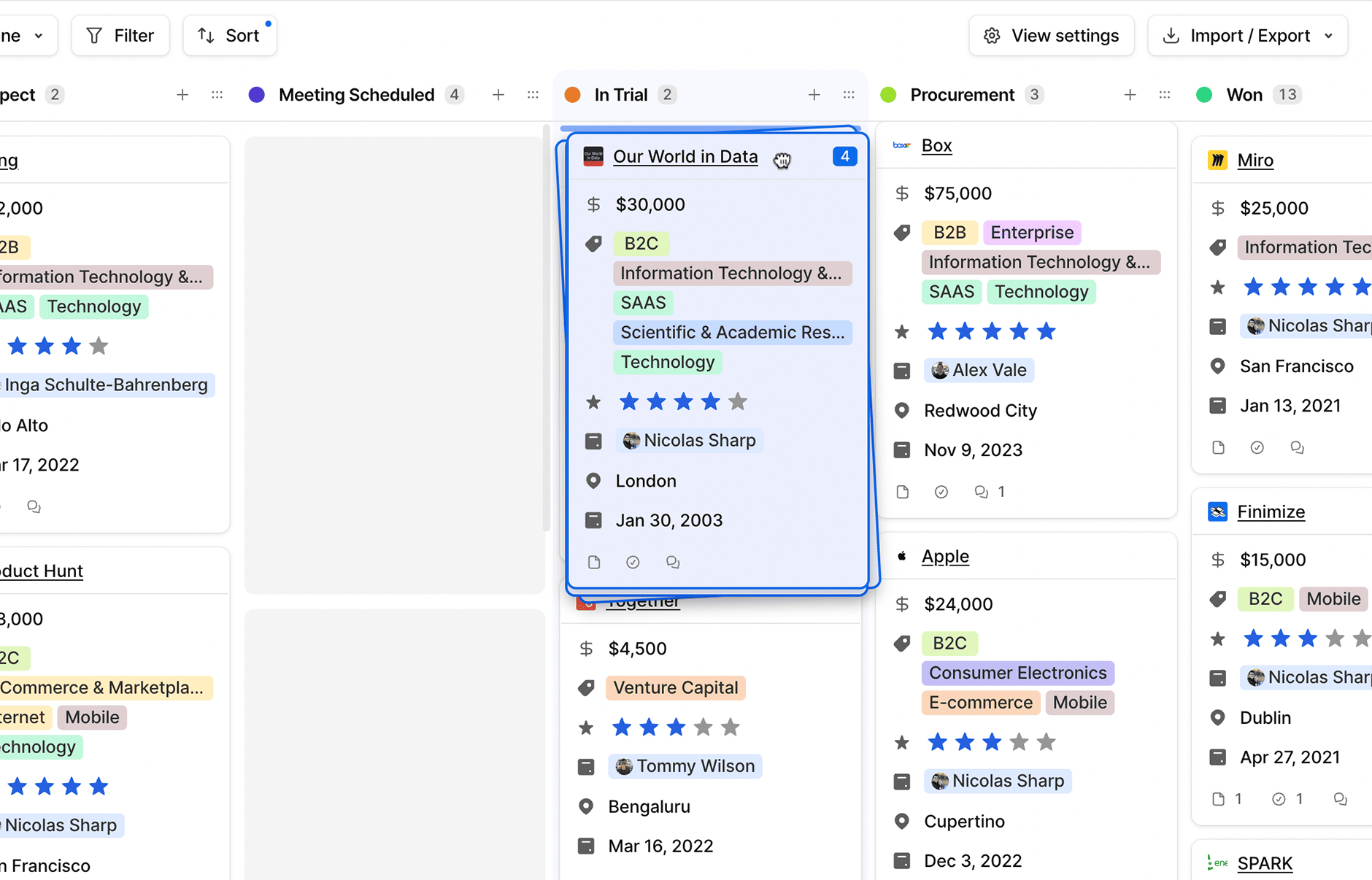 Confetti stages
Click on any stage name in a kanban view and toggle on Confetti - each time a card is moved to this stage a confetti canon will fire 🎉 - great for celebrating wins big and small.
View settings
Adapt your kanban to fit any part of your process or workflow. Add filters, change how things look, and narrow down your pipeline to focus on what's important. Click View settings in your kanban view to get started.
Display attributes
Attribute values can be viewed and edited directly on kanban cards. You can configure your kanban views to display certain attributes and hide others.
Open

View settings

on the top right of your kanban view
Click

+ Add card row

Select the attributes you would like to see
Reorder your attributes with the horizontal dots icon in

View settings

any time
Toggle attribute labels on or off with

Show attribute label
Learn more about the different types of attributes you can create, and how to manage them.
Change kanban grouping
You can group your kanban view around any of the status type attributes in your list.
Open the

View Settings

menu on the top right of your kanban view
Select

Grouped by

to see a list of your status type attributes
Select a status attribute
Filter a kanban view
Filter down your entries to focus on what's important for the task at hand.
Select

Filter,

then select the attribute you would like to filter by
Choose a condition to apply to your filter (contains, is equal to, etc)
Choose a value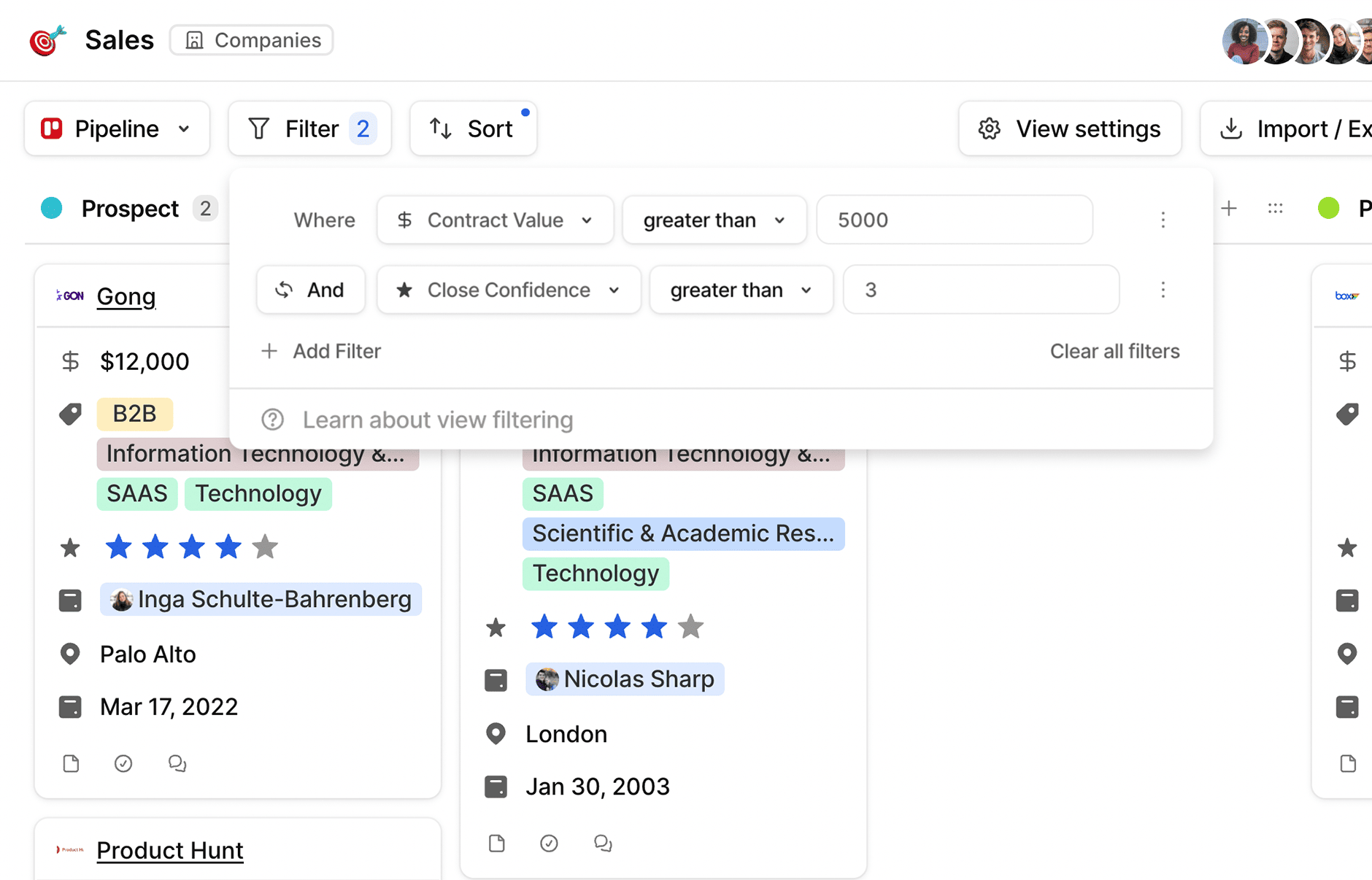 You can add multiple filters at a time. Use the

And

/

Or

toggle as well as filter groups to change the way filters interact
Remove filters by clicking the

⋮ 

icon to the right followed by

Remove block
Sort a kanban view
Change how your entries are sorted in your kanban view.
Select

Sort

, followed by an attribute
Choose either

↑Ascending

or

↓Descending

Use

+ Add sort

to add multi-level sorting
Remove sorting options with

x

and reorder with the horizontal dots icon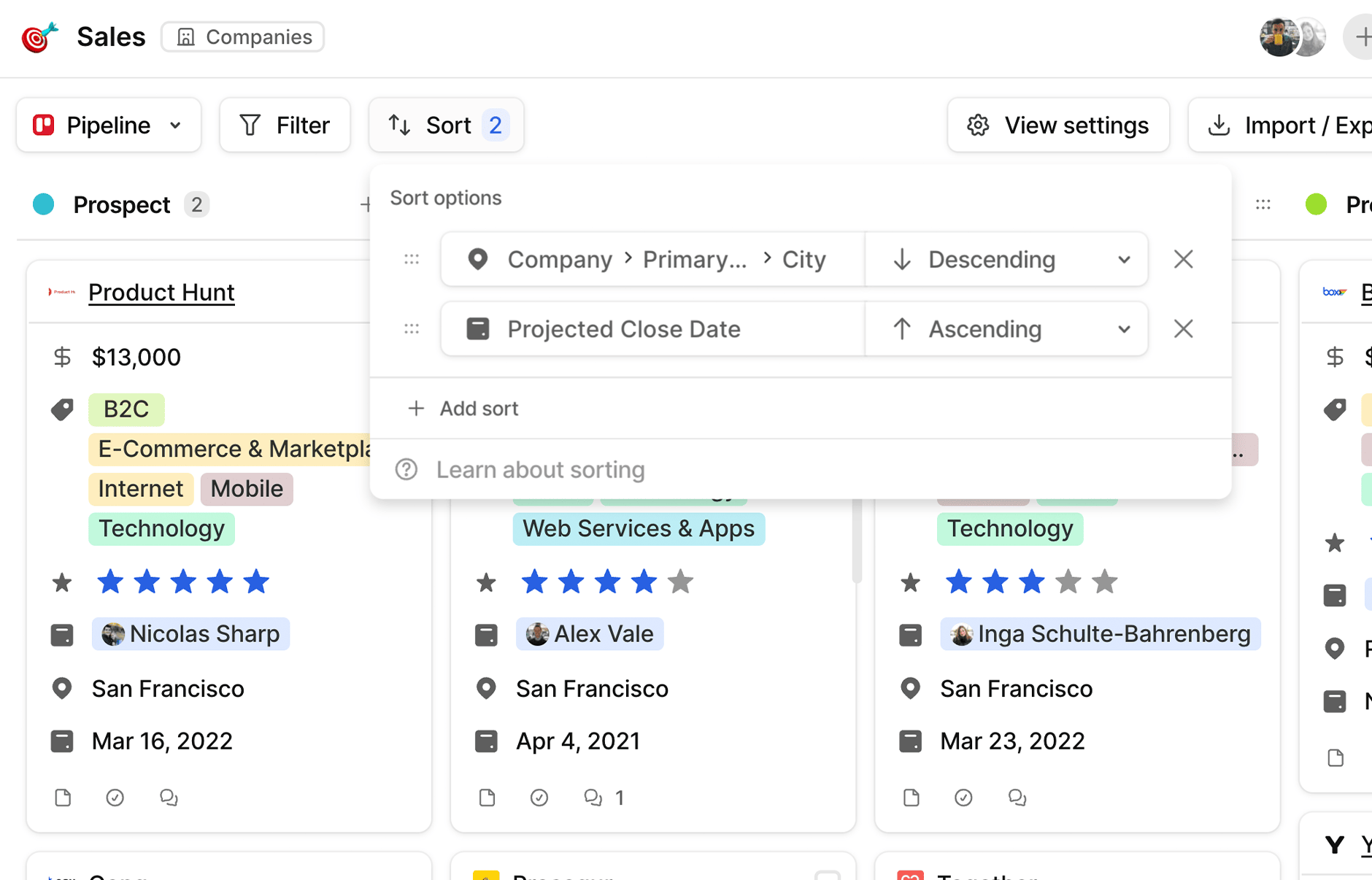 Track time in stage
You can also track how long a card stays in a stage by clicking on the stage name. Toggle Track time in stage on and set your target time - once this period has expired the counter in the bottom right corner of the card will turn red.
To sort by time in stage, select Sort, select the status attribute you're using, select Active from, then choose either ↑Ascending or ↓Descending.
Calculations in kanban views
You can perform a variety of instant calculations on numeric values in a kanban view. Attributes with non-numerical values support empty/filled calculations.
Use + Add calculation at the very bottom of a kanban stage to see your options.
Couldn't find something?
Send us a message in the chat on the right ✌️