Changelog
What's new?
A rundown of the latest Attio feature releases, product enhancements, design updates, and important bug fixes.
Real-time, dynamic reporting
We've built and released a brand new, real-time dynamic reporting engine which enables our users to quickly slice, manipulate and visualize millions of customer records in many different ways.
Reporting is built on top of Particle, so you can use the same filtering system records and lists to get exactly the right visualization you need.
2023-03-22
Changelog (Mar 22, 2023)
Updates, fixes and improvements for March 22, 2023:
Increased our Google Cloud Platform resources to handle the increase in volume we have experienced since our public launch.
Improved page load times by adding lazy-loading of images to certain pages.
Significantly improved load times for large lists by limiting the number of list entries we attempt to index for a given record.
Implemented an updated design for our Slack integration, improving ease of use.
Added multiple fixes, updates, and improvements to our Developer Docs, including updating example code to improve ease of use and readability.
Provided more visually appealing illustrations for our mobile app.
Allowed for the selection of "Custom date" as a default value for a date attribute.
Fixed our currency formatter, reducing errors in import or in export of currency values.
Fixed the process of creating a Webhook via OAuth.
Updated our API so that it responds with a 400 error for invalid JSON as opposed to a 500 error, improving the ability of our end users to troubleshoot.
Added functionality to allow for longer Task descriptions.
Implemented a solution to prevent custom browser fonts not rendering correctly.
Resolved an issue where you couldn't complete the use-case selection stage of Attio onboarding if you selected "Other."
Reworked the navigation flow for when a user joins a workspace, preventing a scenario where the cache causes the workspace to appear as if it has no members.
Fixed an error on our Startup Program form, which was preventing submissions.

2023-03-22
New template UI
You can now see a preview of the template you're choosing, complete with sample data and a detailed description of the views and attributes it includes.
We've also improved search functionality, so you're able to find the template you need faster than ever before.
2023-02-23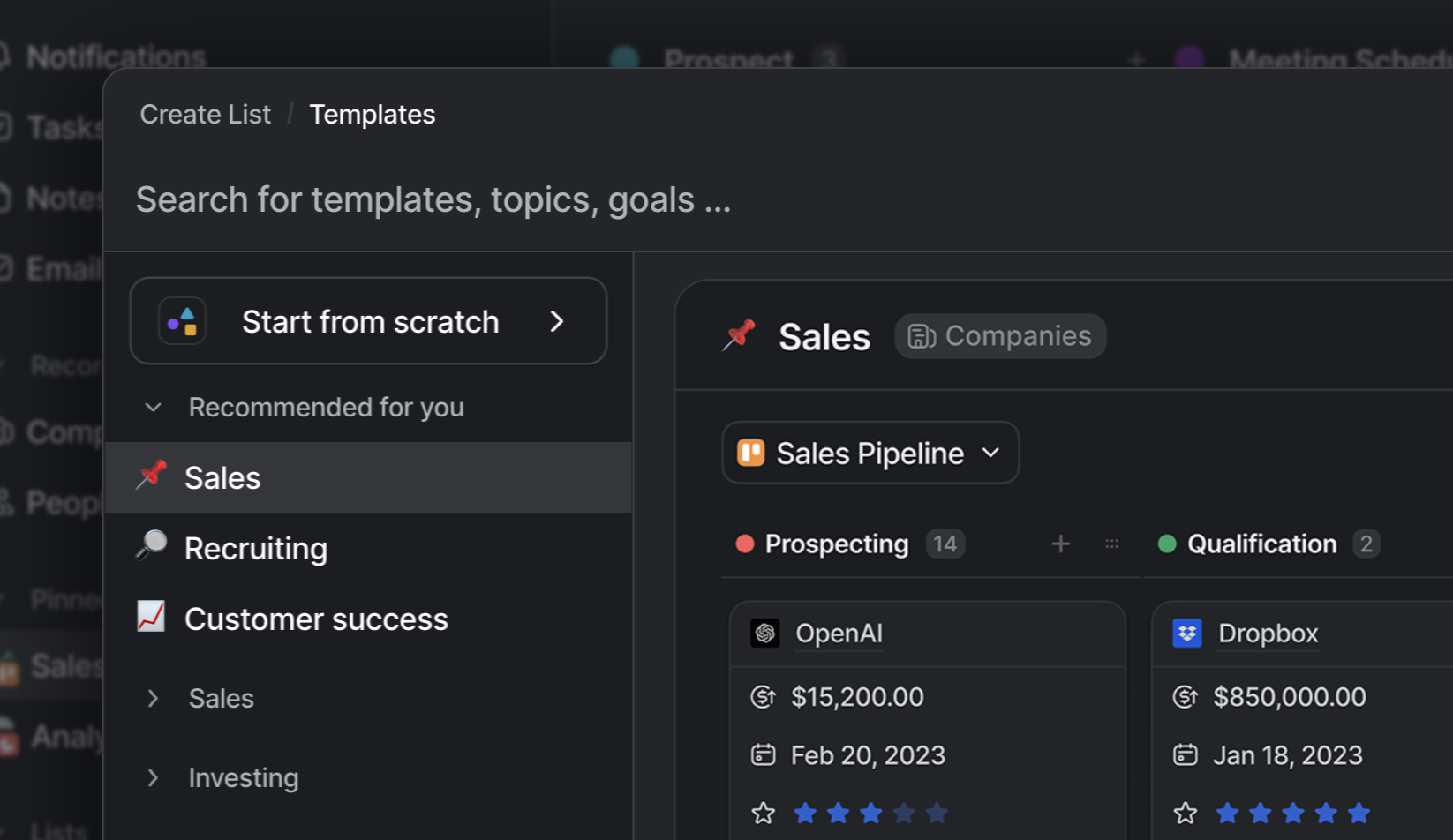 Email attachments
Need to send a sales deck to a prospect? Or a pitch deck to an investor? No problem. You can now attach files to both emails and templates directly in Attio.
Click the paperclip icon in the bottom left corner of the compose email window to attach your file.
This feature works for bulk email sending as well: just flip the toggle on the right hand side of the window before Mass sendto send to multiple recipients.
2023-02-23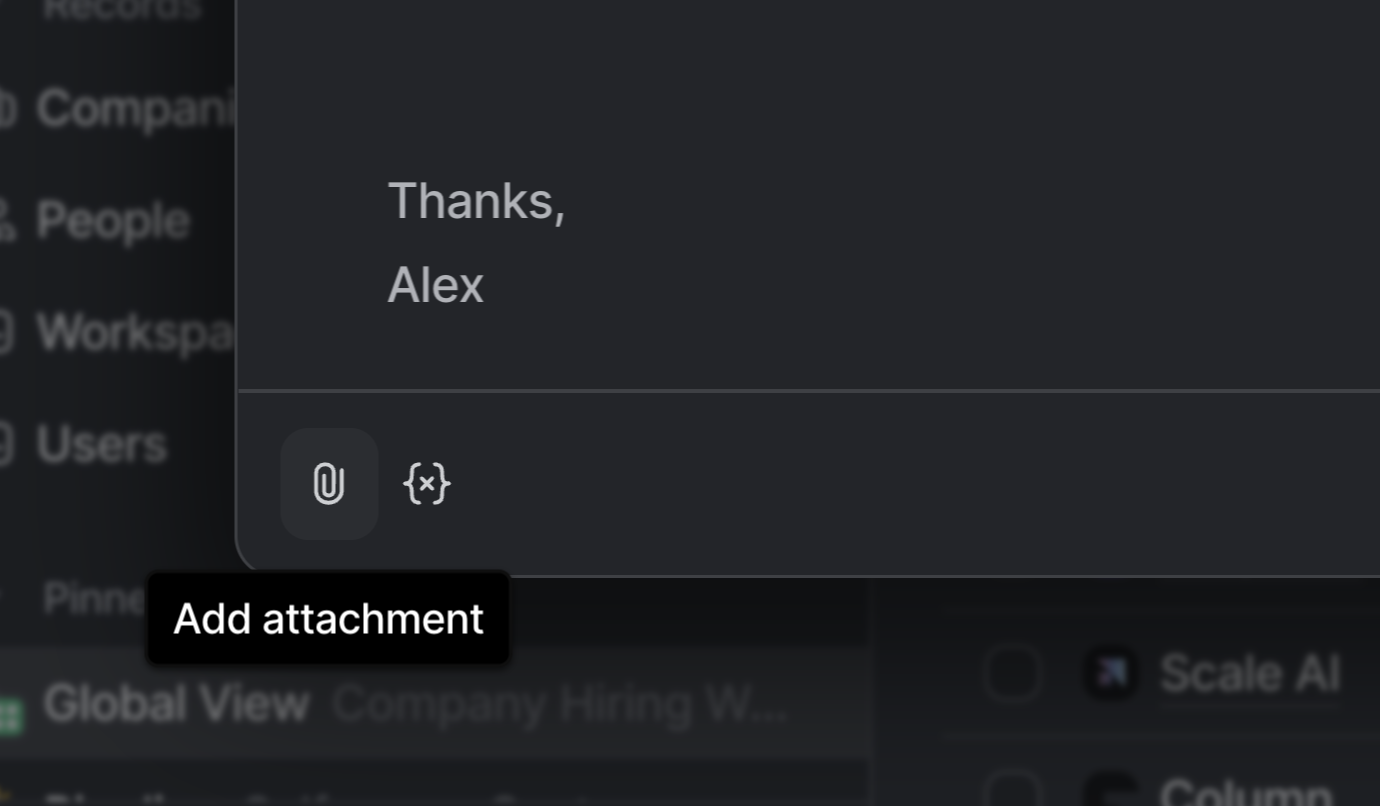 100s of new icons
The right design choices — even the smallest details — can make a big difference in the productivity of users. That's why we obsess over every detail to create an interface that's visually stunning, friendly and intuitive as humanly possible.
We've recently introduced an entirely new personalized icon set in the product. Nearly every aspect of the product has been updated. Take a look!
2023-02-23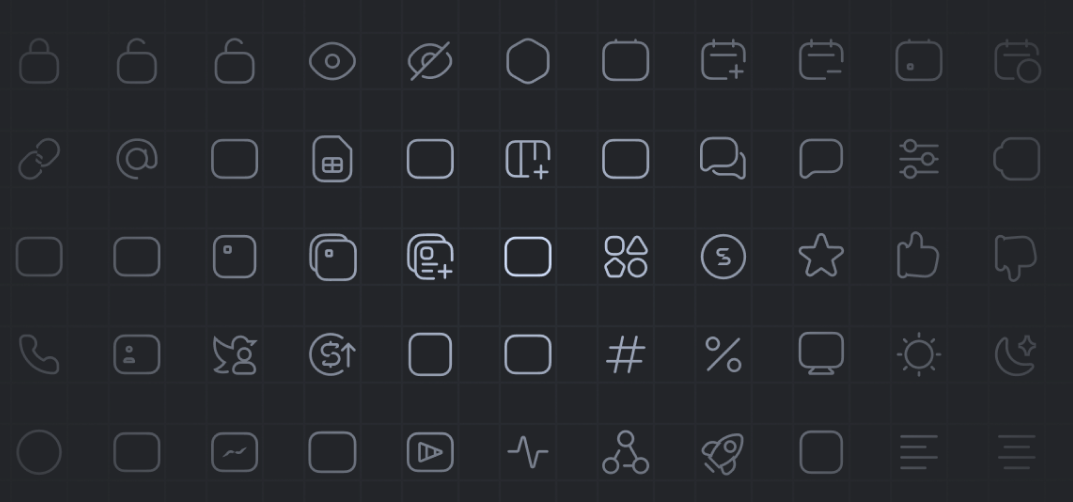 Changelog (Feb 23, 2023)
Updates, Fixes and Improvements for February 23, 2023:
Made it possible to create Attribute Definitions with an emoji as the title.
Added historic mailbox sync fixes and improvements, including showing a mail sync error message if we detect we cannot sync mail for a Gmail inbox.
Increased the speed of mailbox syncing by increasing our mail queue concurrency.
Updated tables to auto-scroll only when the keyboard is used.
Fixed a bug where a record's email was not rendering in our browser extension.
Released a new version of our browser extension.
Implemented ability to render markdown in API docs.
Fixed a bug where duplicate tasks were being shown.
Added support for account creation when authenticating with a SAML auth flow.
Improved documentation for "Create Record" endpoint by specifying that record endpoints are for People and Companies.
Improved logging for Workspace Historic Value Export, allowing for a user to troubleshoot if the export times out.
Added code to ensure roles are created when a person or company record is created, even if they are created via import or manually.
Updated automated record creations/updates to execute in batches, increasing speed.
Fixed a modal crash that would occur when a user previews a file.
Fixed a bug that occurred when following Attio links from emails.
Improved handling of 401 errors in our browser extension.
Formatted currency values so that they have a fixed number of decimal places. This change improves the readability of data within tables.
Fixed overflowing text issue and realigned workspace avatars.
2023-02-23
Improvements to record pages
We've just added even more functionality to record pages. Check out the new Add to Collection and Compose Email buttons on record profile pages.
You now can also remove individual contacts from the Team tab of a company record.
We've made some small but important visual tweaks to each page too - we think they look better than ever. Look out for more specific icons, indicators, and illustrations across profile pages!
2022-12-21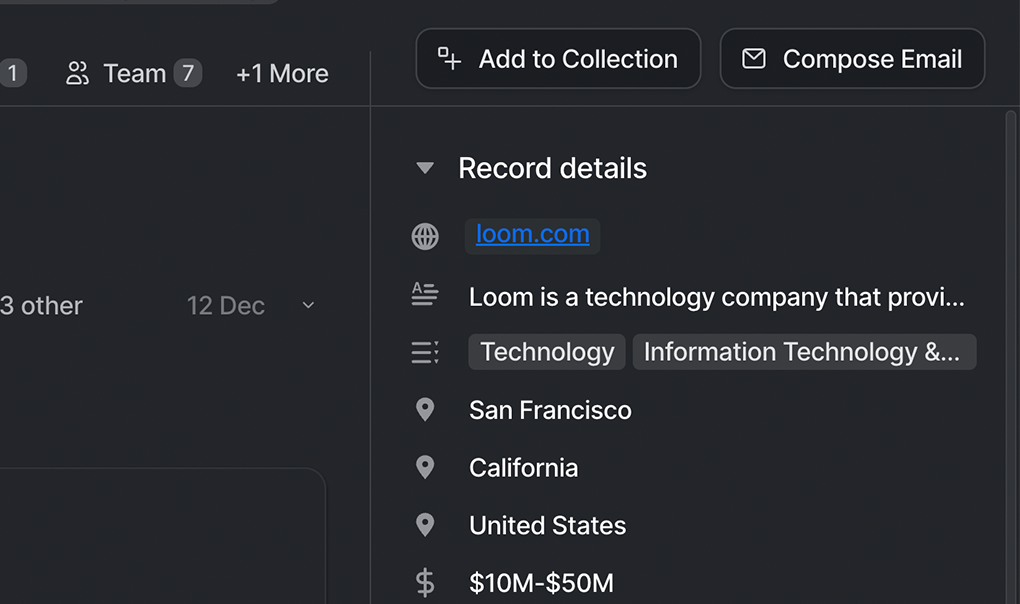 Improvements to automatic record creation
Our latest update is all about housekeeping - keeping unsolicited email senders (marketing, spam, etc) out of your Attio workspace.
For all new workspaces Attio will only create records for recipients of your outgoing mail, plus those found in your calendar. We won't create records for senders of emails you don't respond to.
For existing workspaces, admins can toggle this setting on (it'll be set to off by default) in the Email and Calendar tab of your Workspace settings.
Toggling this setting on/off won't remove any existing records already created.
2022-12-05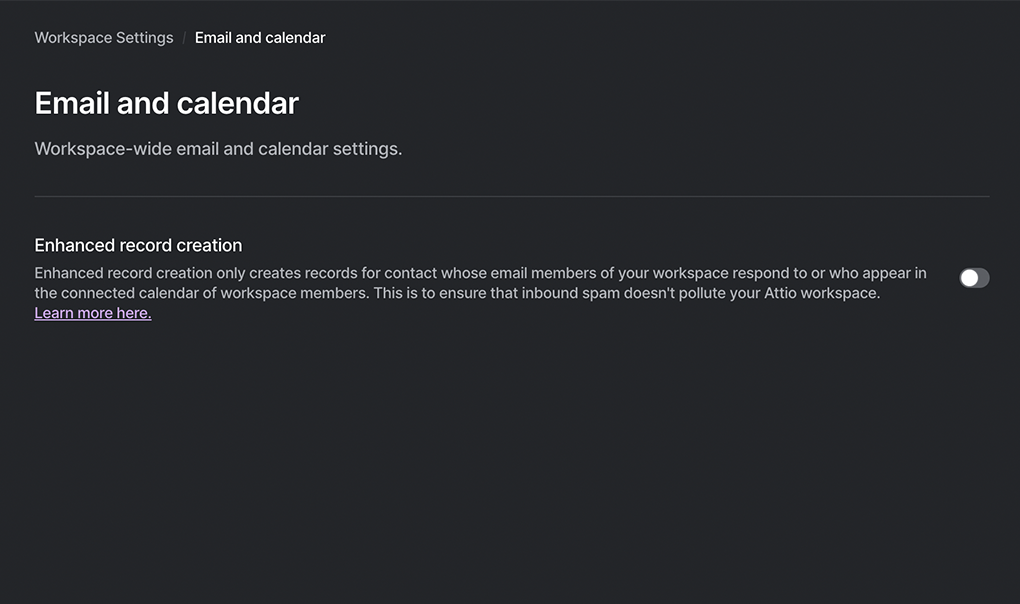 Collections overhaul
We've just finished a complete upgrade of the contact list experience in Attio.
Collections are now powered by Particle, our groundbreaking new data model we've built. That means you can drill down and filter your collections at insanely fast speeds.
You can run multiple filters at the same and use tier sorting to organize your records in any way that comes to mind, on both tables and kanban.
2022-11-04
Kanban update and redesign
Workflows in Attio have gotten a major redesign and upgrade. Kanbans now work and look better than ever before.
You can select and drag and drop multiple cards in addition to leaving comments, notes and assign tasks in real-time on each record.
2022-10-24
Bulk personalized email sending
Starting today, Attio users are now be able to send highly personalized emails en masse — leveraging dozens of enriched data points as variables, as well as any custom attribute or data points from integrations you've created to create truly impactful conversations with your customers.
Additionally, whatever templates you have can be created, saved, edited and collaborated on in real-time — just like a Notion or a Google doc.
All you've got to do is hit a single keyboard shortcut (c) from anywhere within our platform to get going.
You can also quickly access a collection, segment and select your audience in any combination, and start writing highly personalized emails to contacts with just a few clicks.
2022-09-01
All records
We've just launched All Records, a feature that is not just new to Attio but also completely new to CRM.
Starting today, Attio now gives you an instant global view of every single person and company you and your team have ever interacted with.
No data input is required, and every record is updated in real-time and enriched with relationship intelligence data.
‍You can organize, filter, and view your records in any combination and create new collections at insanely fast speeds.
This is a really big deal and only possible because of Particle, our amazing underlying data architecture. Particle processes data in real-time using parallel computation, allowing us to deliver the fastest and most flexible CRM ever.
Learn more about All Records here.
2022-07-01
Sidebar redesign
No part of Attio goes unnoticed when it comes to continual improvements and polish. This time we've redesigned the sidebar. The new design means that it's possible to fit more information into a sleeker and easier to use form.
2022-04-01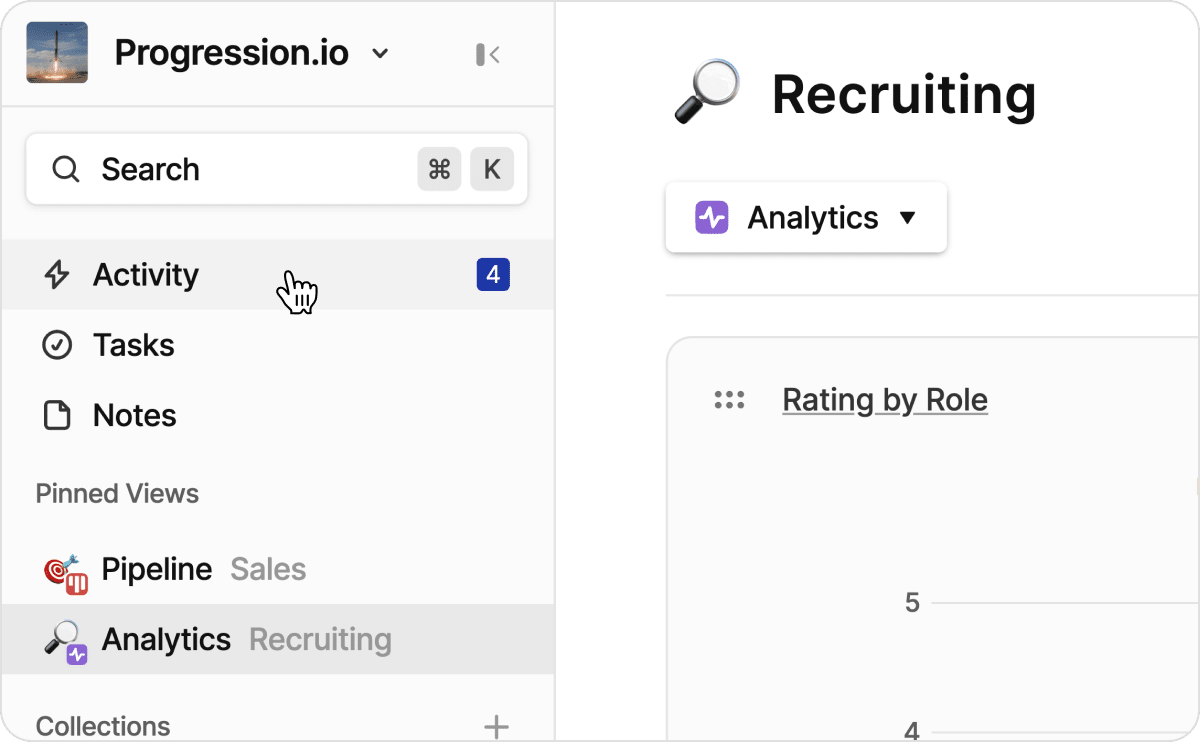 Filtering and sorting improvements
We've added even more ways to filter and sort views, this time with a focus on communication data. You can now use properties like 'Last meeting with', 'Next meeting at', and 'Time in status'!
2022-03-02
Email sending
We're super excited to announce this one - being able to send emails from inside Attio is one of your most demanded features and it's out of beta.
Everyone's now able to send emails to any contact in a workspace, directly from the built-in email editor, simply by pressing c. The editor has all the same formatting options as notes, and if you're an Outlook user then it also supports open tracking!
We've got big plans for templating, batch sending, and automations so stay tuned for more updates. In the meantime, happy sending!
2022-03-01
Kanban improvements
Another quality of life improvement. Each entry's status can now be updated from the '...' context menu on its kanban card. This makes it easier to move cards across significantly wider kanban boards and means you'll no longer need to have status as a visible attribute.
2022-02-01
Settings improvements
We think sweating the small details is just as important as shipping big features. To celebrate that we've given our settings pages an overhaul. We've moved them from pop-ups to their own dedicated pages, and given everything a new lick of paint.
2022-01-02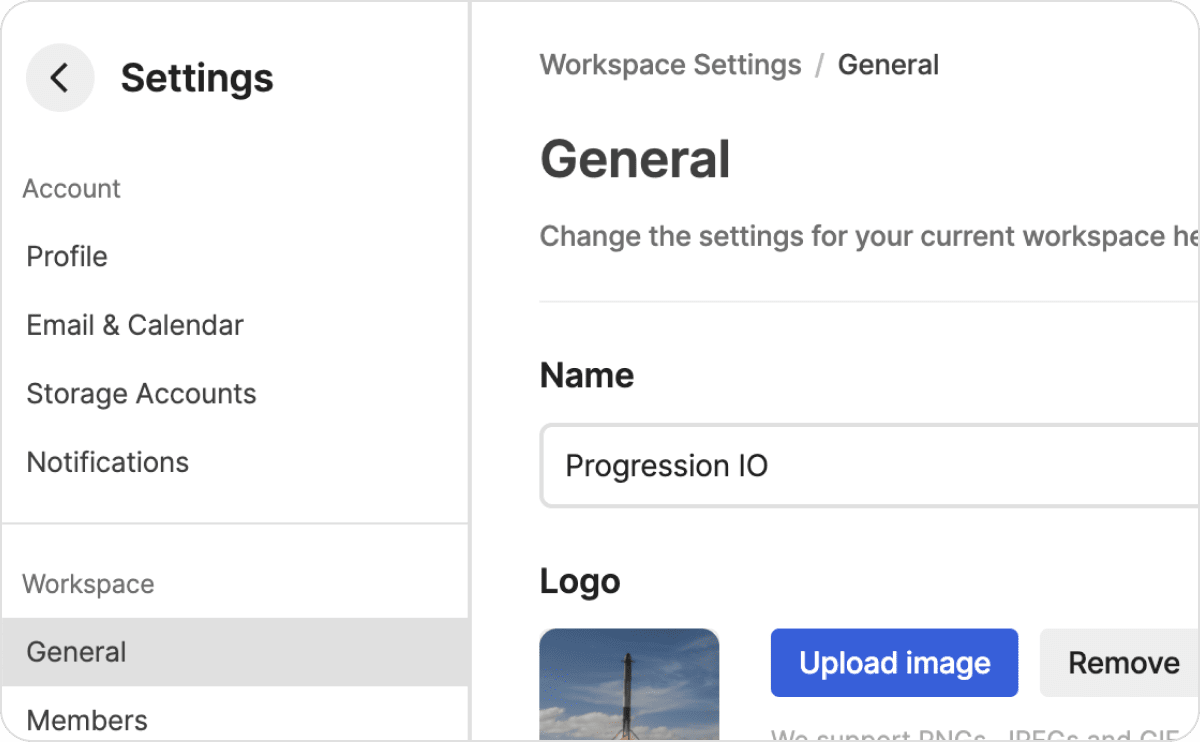 ISO 27001
We're proud to announce that we've passed ISO 27001 certification with zero issues flagged by the auditing team!
If you or your team would like a copy of the certificate then don't hesitate to get in touch.
2022-01-01 Dashboard views
We've been teasing this one for a while! After months of hard work dashboard views are now in open beta. Easily build beautiful reports on top of collections' data and start sharing them with your team.
2021-12-01