Navigating your workspace 
Take a quick tour of your Attio workspace - you'll know your way around in no time.
Using the sidebar
The sidebar is home to your Notifications, Tasks, Notes, Reports, Lists, and more.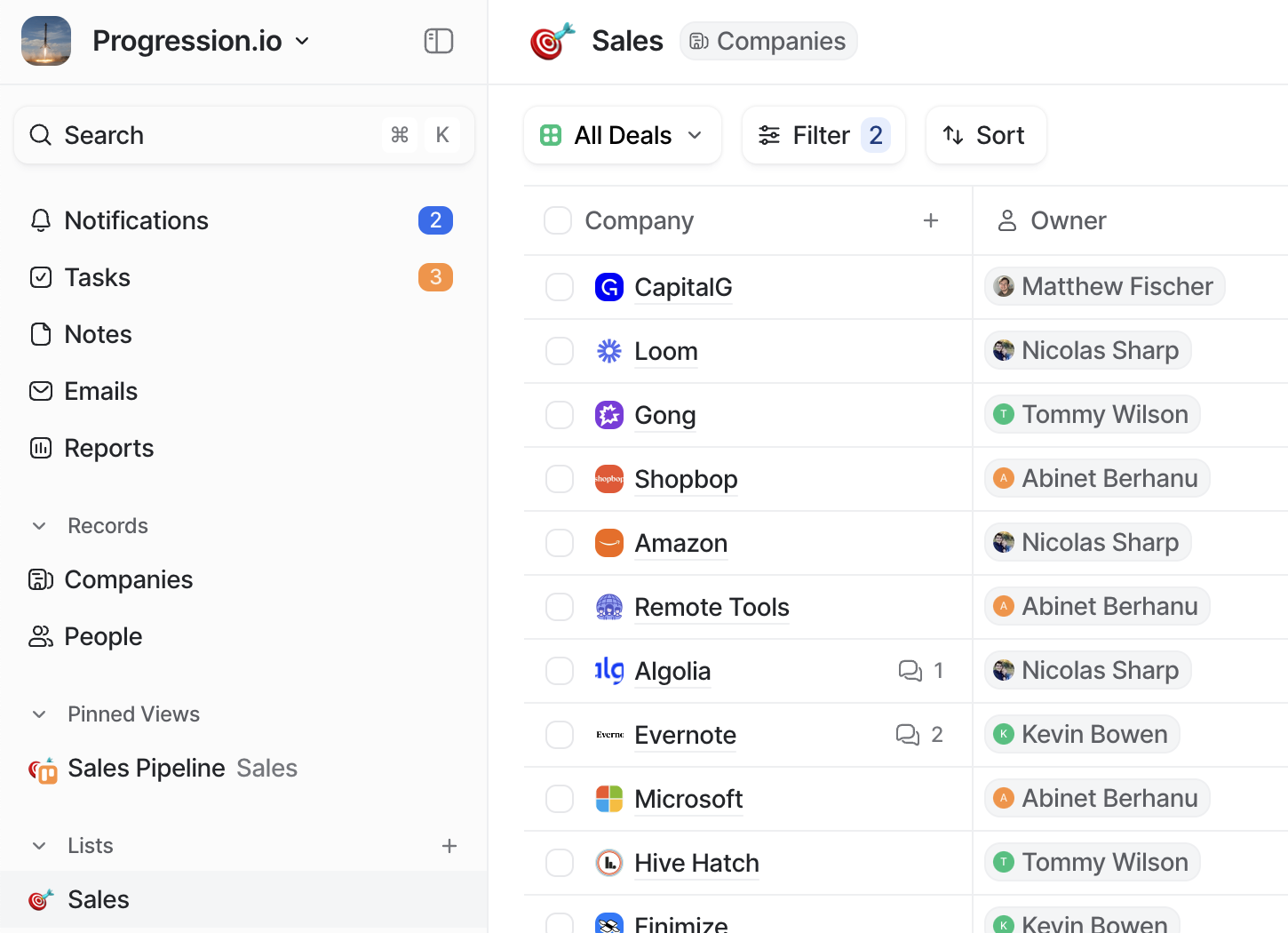 Quick search
Searching in Attio is simple, intuitive, and fast. Search through your records and find everything you need in seconds.
You can bring up the search window with the cmd/ctrl + k shortcut anywhere in Attio, or click the search box at the top of your sidebar. Use the search window to quickly find anything from people and companies to calendar events and social media handles. You can search keywords like names, descriptions, and locations to see all relevant results.
Calendar events in search
If you have synced your email and calendar with Attio, you can see today's events in the quick search window, RSVP directly from Attio, and create a meeting note in seconds.
When you open quick search with cmd/ctrl + k you'll see today's appointments under Suggestions. You can RSVP or change your response directly from the quick search window.
Under Participants you'll see who's invited and their response via the colored circles beside their name; green (yes), purple (tentative), or red (no).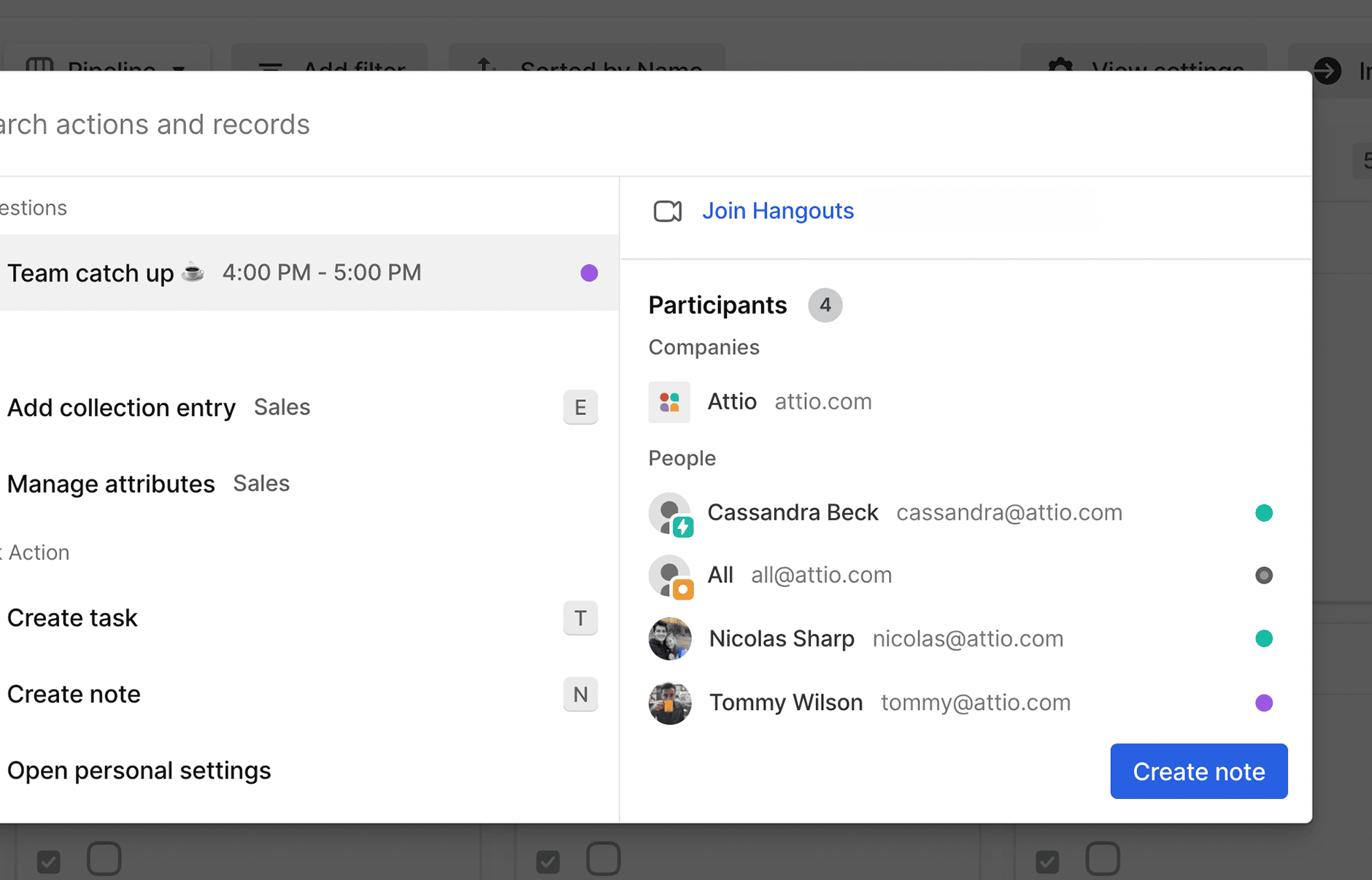 Create a note linked to your event by selecting an event and clicking Create note. Choose a record and create your note - you can find your new note on the record's page under the Notes tab.
Quick actions and keyboard shortcuts
Attio supports over 30 quick actions, which are keyboard shortcuts for commonly used actions. You can use the following keyboard shortcuts anywhere in Attio:
Open search with 

cmd + k

Create a new note with 

n

Create a new task with 

t

Compose a new email with 

c
Find all of Attio's keyboard shortcuts by hitting the ? key anywhere in Attio and choosing ⌘ Keyboard shortcuts.
Using cmd/ctrl + k also surfaces suggestions for Quick Actions, which will differ depending on where you are in the platform.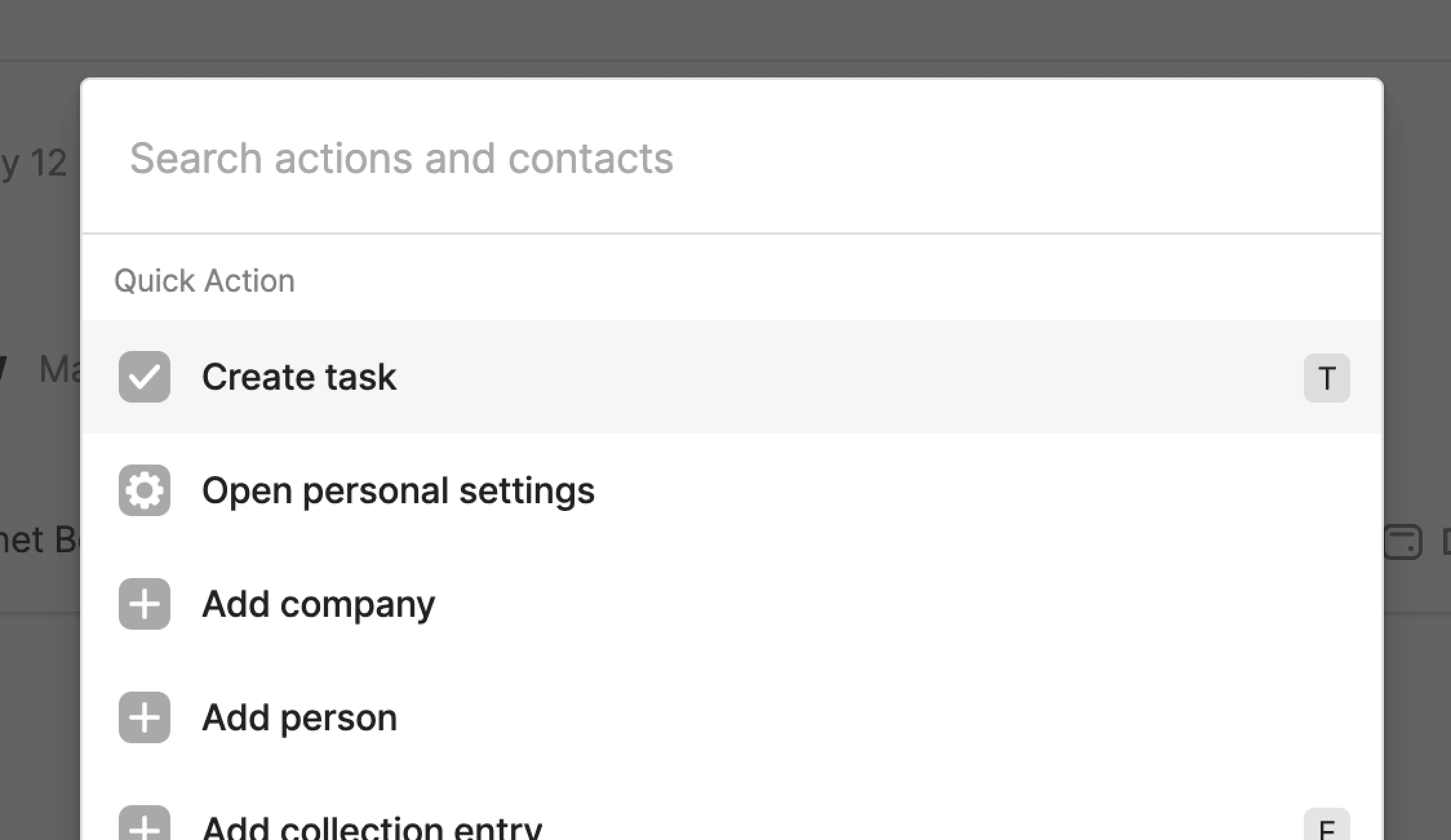 Switching workspaces
If you are a member of more than one Attio workspace, you can click your workspace name in the upper-left of your account, then click the name of another workspace to switch to that workspace.
Account and workspace settings
When you click your workspace name in the upper-left of your account you will find Account settings, and you'll also see Workspace settings if you're an admin.
In Account settings you can do things like update your profile picture, sync your email and calendar, and manage your notifications settings.
Within Workspace settings admins can do things like update the workspace name and logo, manage members and admins, see plans and billing information, and create record attributes.
Couldn't find something?
Send us a message in the chat on the right ✌️