Records 
A record is a person or a company in your network.
When you sync your email account with Attio, records are automatically created using data from your inbox. Learn more about automatic record creation.
You and your team can also manually create records in your workspace, here's how.
Adding new records
Add new records to your workspace from the search window - hit the keyboard shortcut cmd + k to get started.
Now search for a record - if no options appear, choose + Add company or + Add person.
You can also manually add records using the + icon beside the Company or Person header in an all records view - just navigate to Companies or People in the sidebar. Note that Attio will automatically link people records to company records when a person's email domain matches a company's domain.
If you don't want to sync your email account, records can also be created using our email forwarding feature.
Note: Regardless of how records are created, Attio will automatically link people records to company records when a person's email domain matches a company's domain.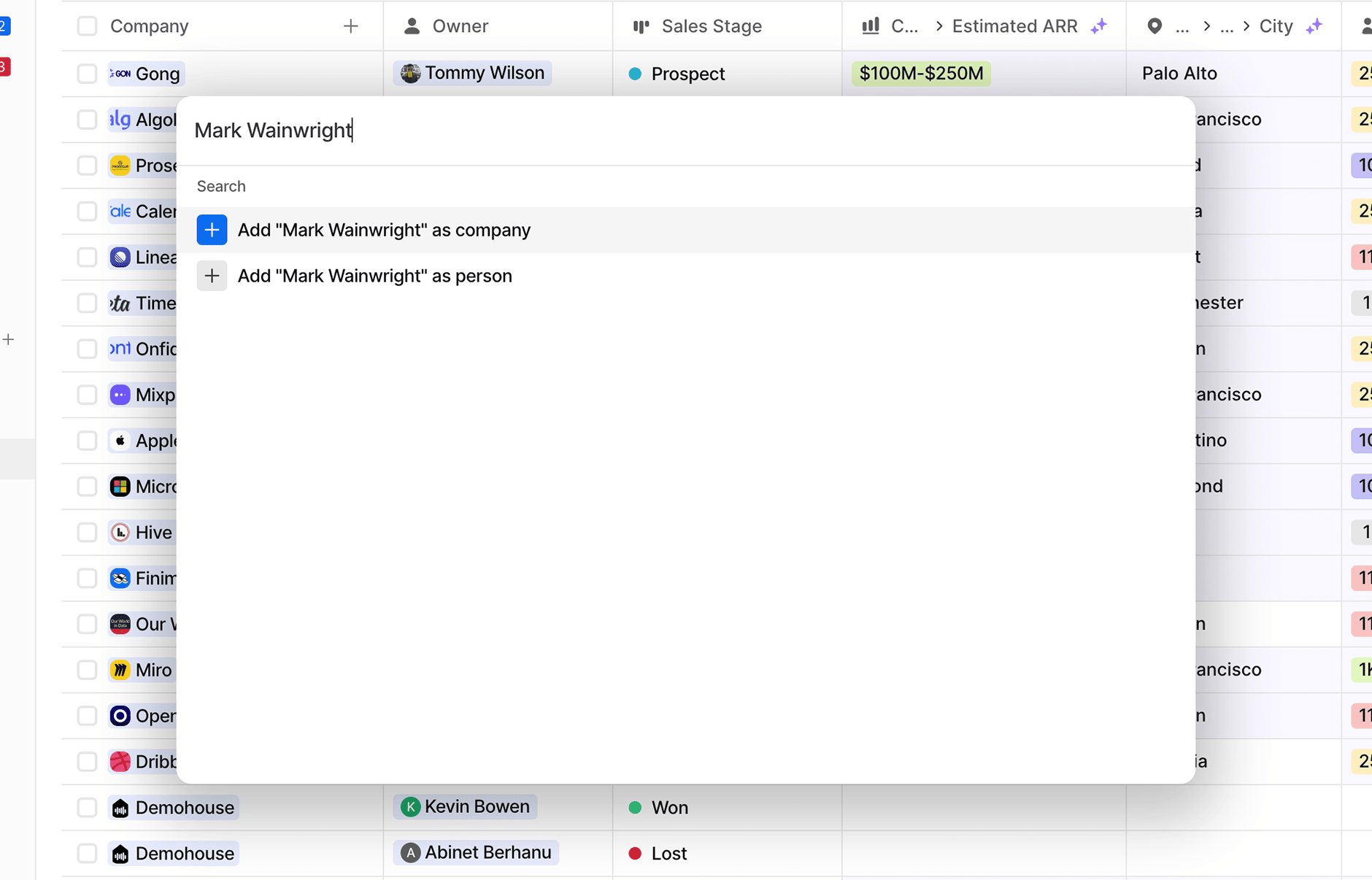 All records views
You'll find Companies and People in your Attio sidebar under Records - here you'll find every company or person record in your workspace. You can create new table views, apply filters, export, and send selected records straight to your lists. Learn more about all records views.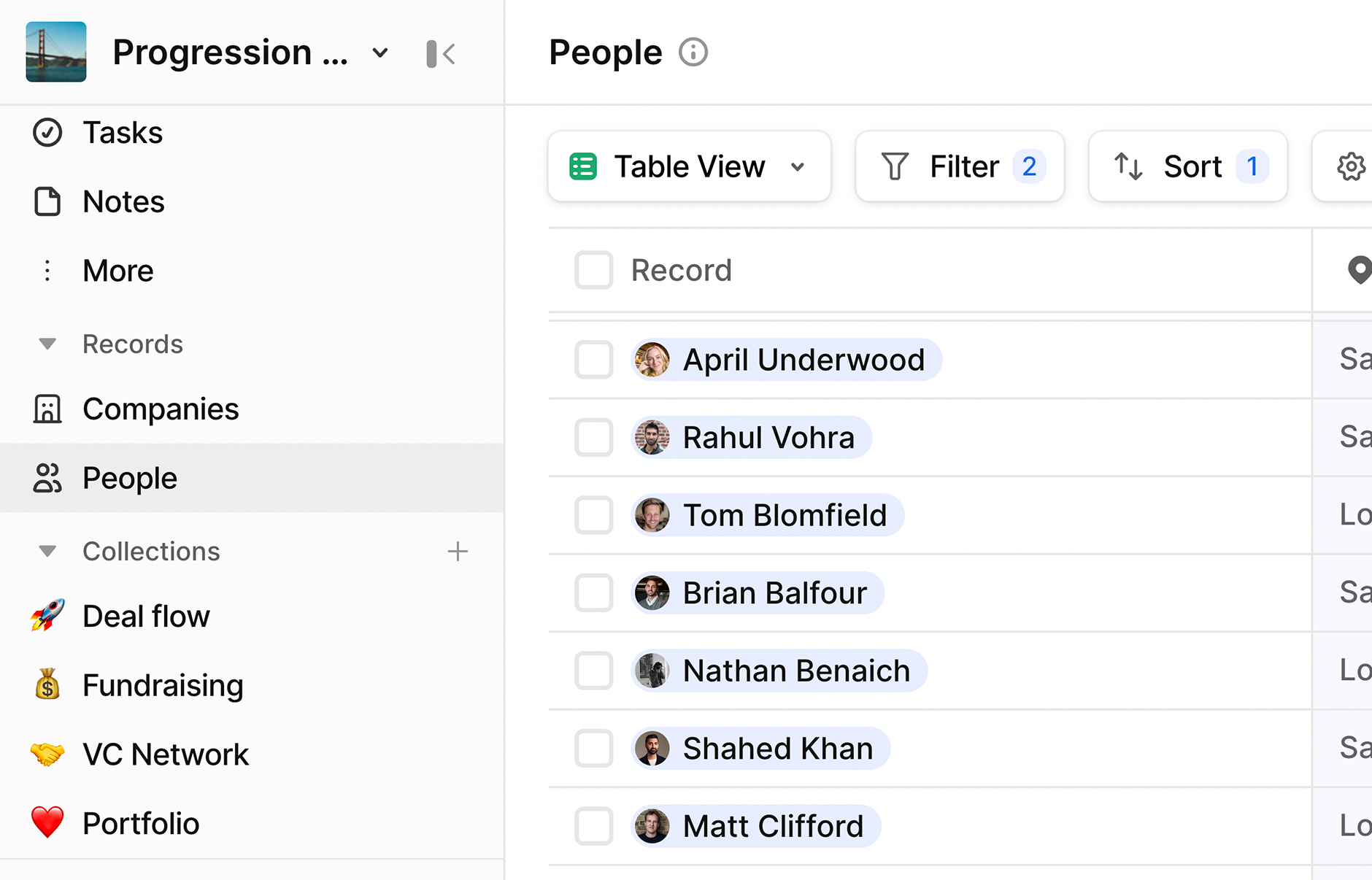 Record pages
Record pages are profiles for each record in your network. You'll find them when you click on the name of a record in your workspace. Here you'll find enriched data, email interactions, files (including third party cloud storage), and notes for your record.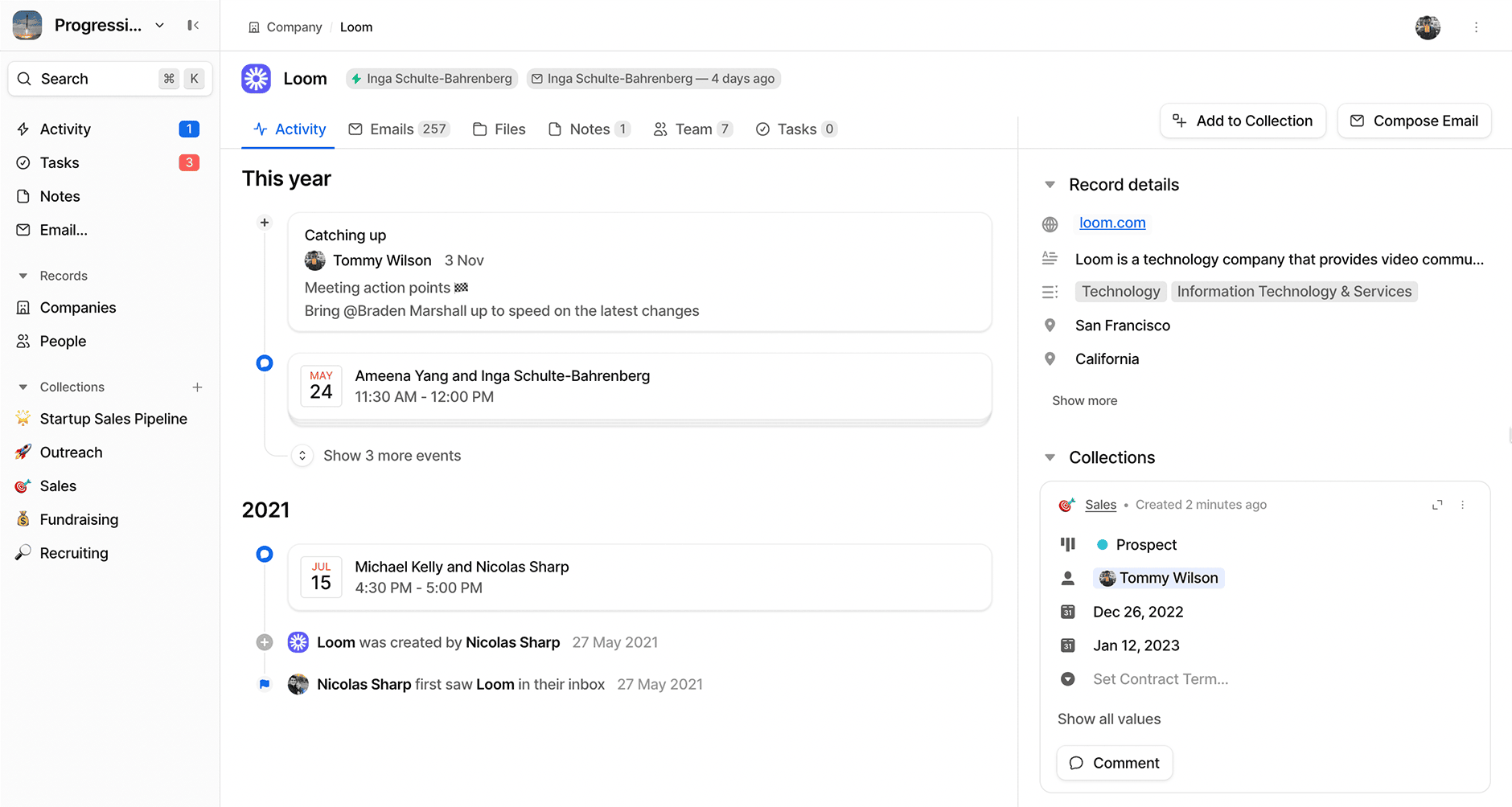 Record page tabs
The tabs on your record's profile page are:
Activity

- a timeline of activity involving the record. Learn more about

Activity

Emails

- Attio automatically captures your team's interactions with your records. Learn more about sharing emails.

Files

- you can sync your third-party cloud storage provider (like Dropbox or Drive) or directly upload files from your device

Notes

- capture ideas, share notes, and collaborate with your team

Team

(for company records) or

Company

(for people records) - shows the people or company record(s) that are connected to the record you are viewing. Learn more about

Team

and

Company

Tasks

- create, assign, and track tasks associated with each record
Record Activity
On each record page you'll find an activity timeline that tracks useful insights including:
When your team first corresponded with the record
When the record was added to a list plus any updates made since
Any notes created by you and your team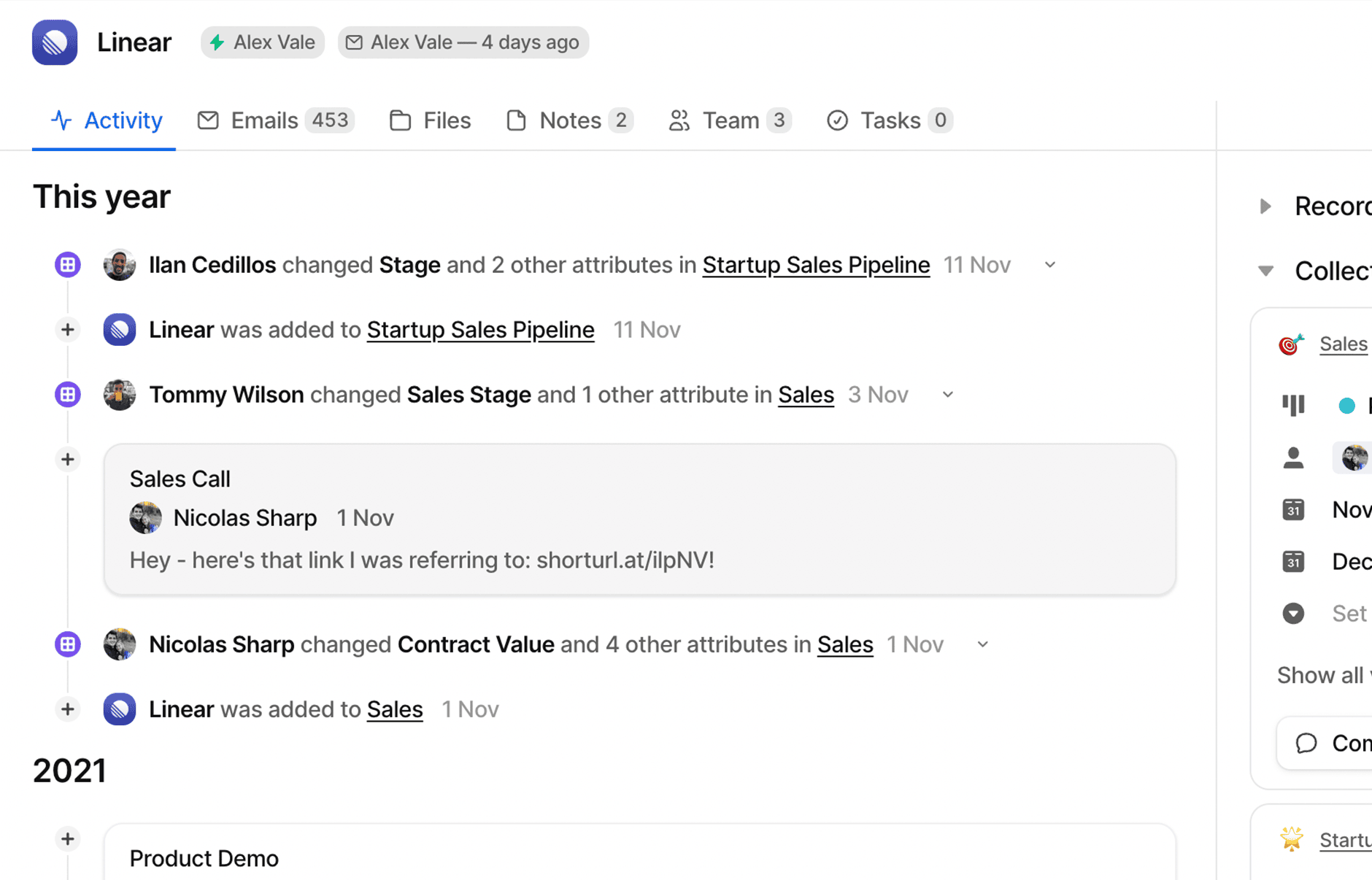 Team and Company
People records will have a Companies tab, and company records will have a Team tab. Attio will automatically enrich companies and teams for records where possible, and you can also add or update people's company or companies' team members.
To update a person record's company, open the Companies tab and click + Update current company. Search for and select the company you'd like to update it to. To remove the current company, select the ⋮ icon on their current company and choose Remove company.
Attio may display other Relevant Companies based on the person's email addresses, and you can also select one of those to update the person's current company.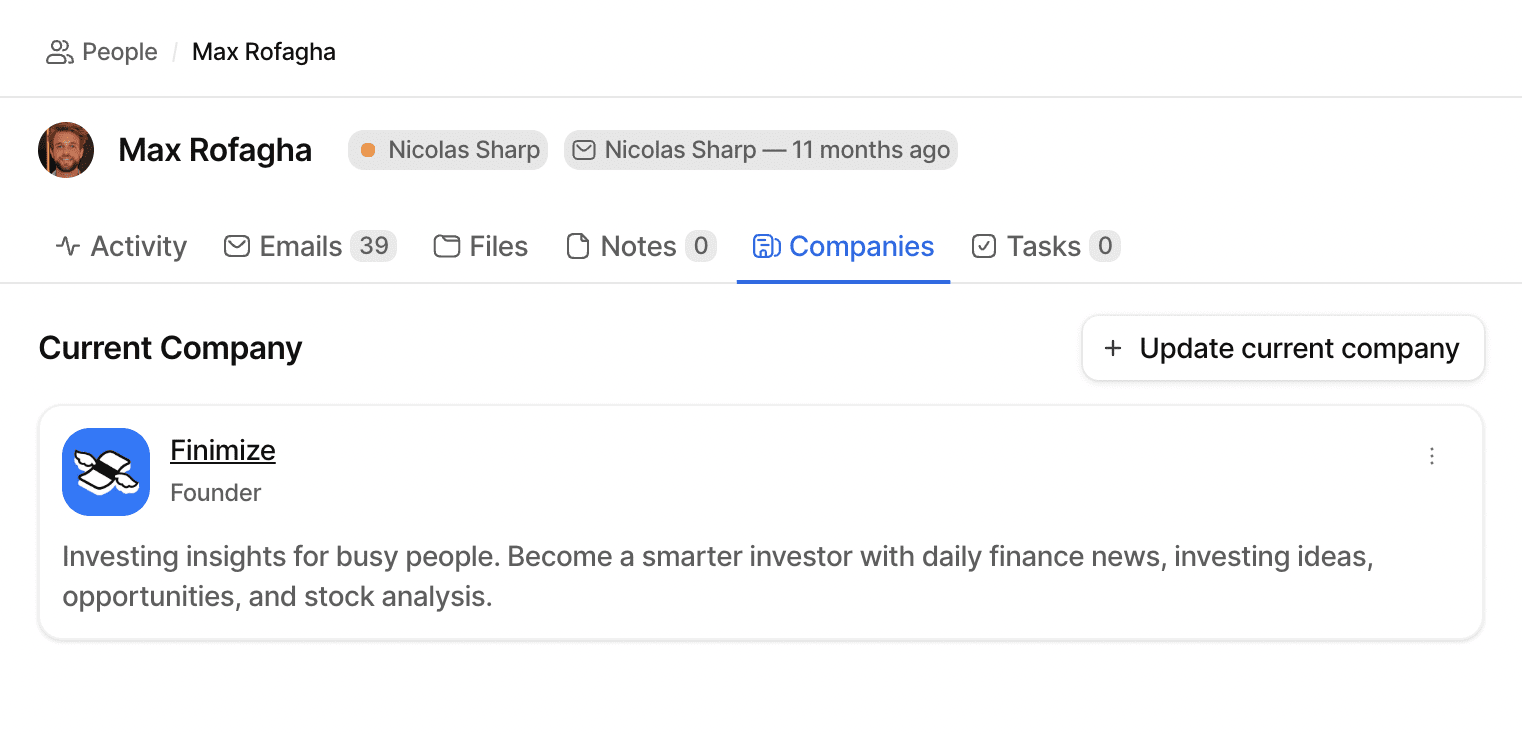 To add team members on a company record, open the Team tab and click + Add person, then search for and select the person you want to add. You can also remove a person from a company's team by selecting the ⋮ icon to the right of the person and then Remove from team.
Note: If you update a person's

Company

, that person will automatically be added to the company's

Team

. Likewise, if you add or remove a person to a company's

Team

, the person's

Company

will be updated.
You can also update people's Job title from the Companies and Team tabs of records, and this can be surfaced in views of people records and used for filtering and sorting like any other attribute.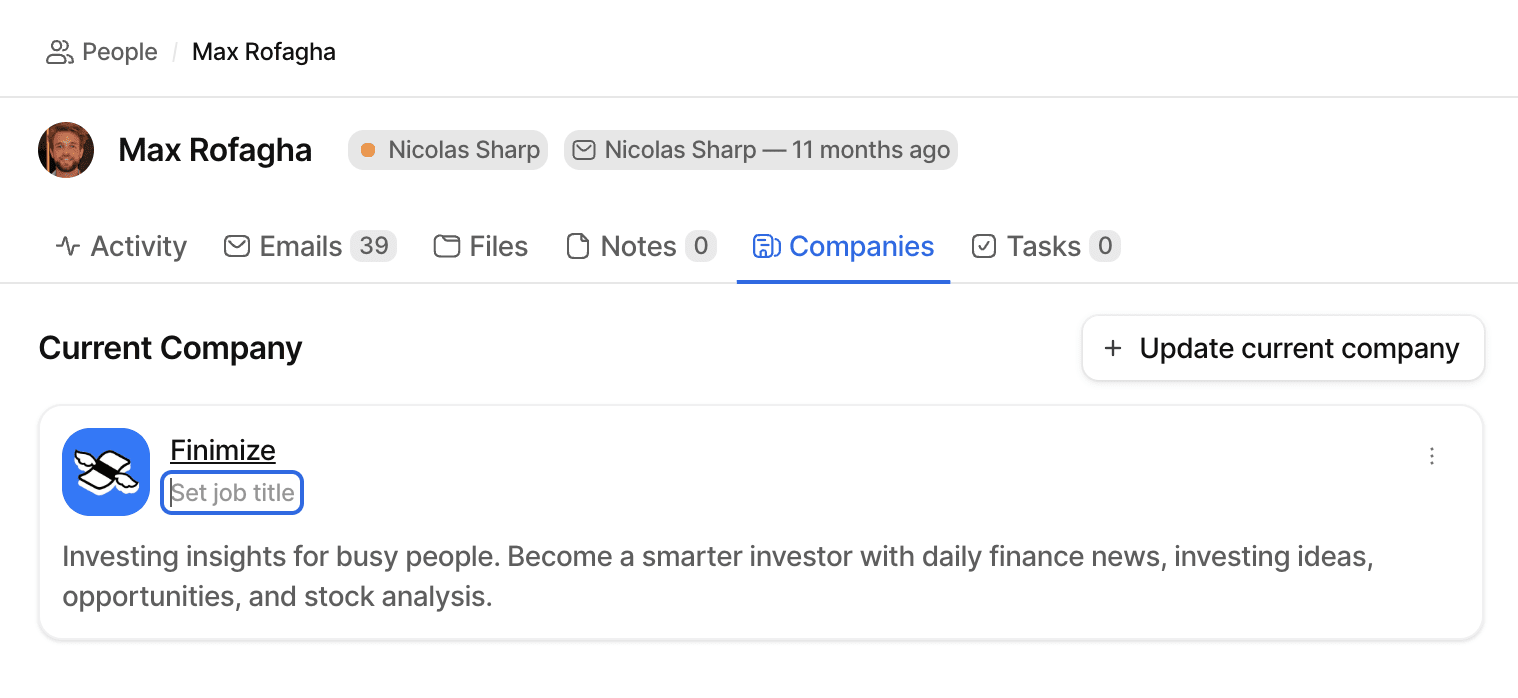 Record details
To the right of your record's profile you'll find Record details; a breakdown of useful data points including:
Auto-enriched data - Attio automatically enriches all profiles with carefully sourced data such as company info and contact details. Learn more about enriched data.
Intelligent communication data - Attio shows useful insights about your relationships such as 'last contacted' dates and 'connection strength'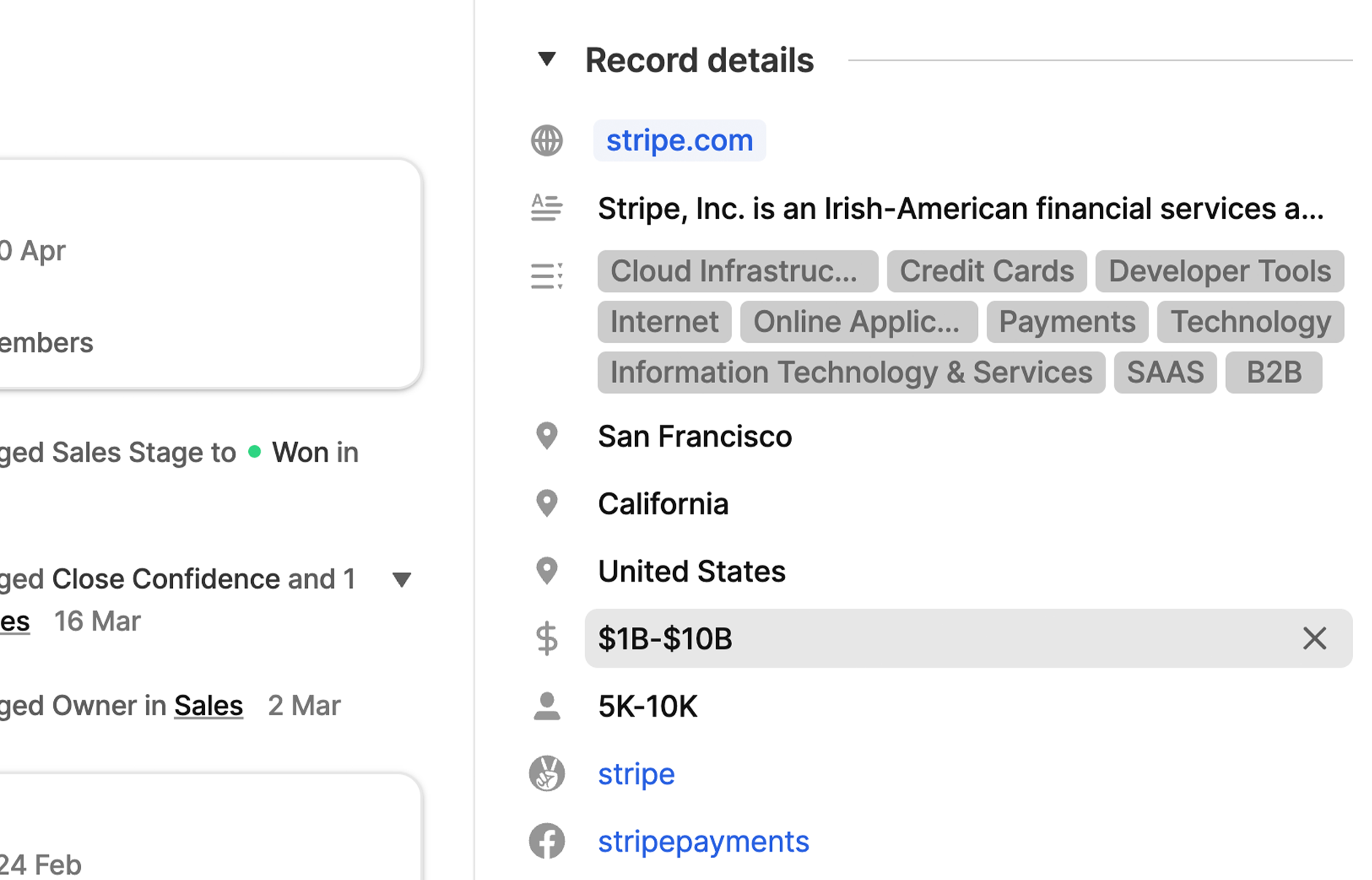 Note: If a person record has multiple email addresses under

Record details

, you can reorder them to list the primary email first. That way, when you send an email to the person from Attio, it will default to their primary email. To do this, click into the

Email address

field and drag and drop the ::: icons to change the order.
Lists summary
In the bottom right corner of your record page you'll find a window telling you which lists contain your record, along with some handy, editable attribute info. You can add comments for your team from here too.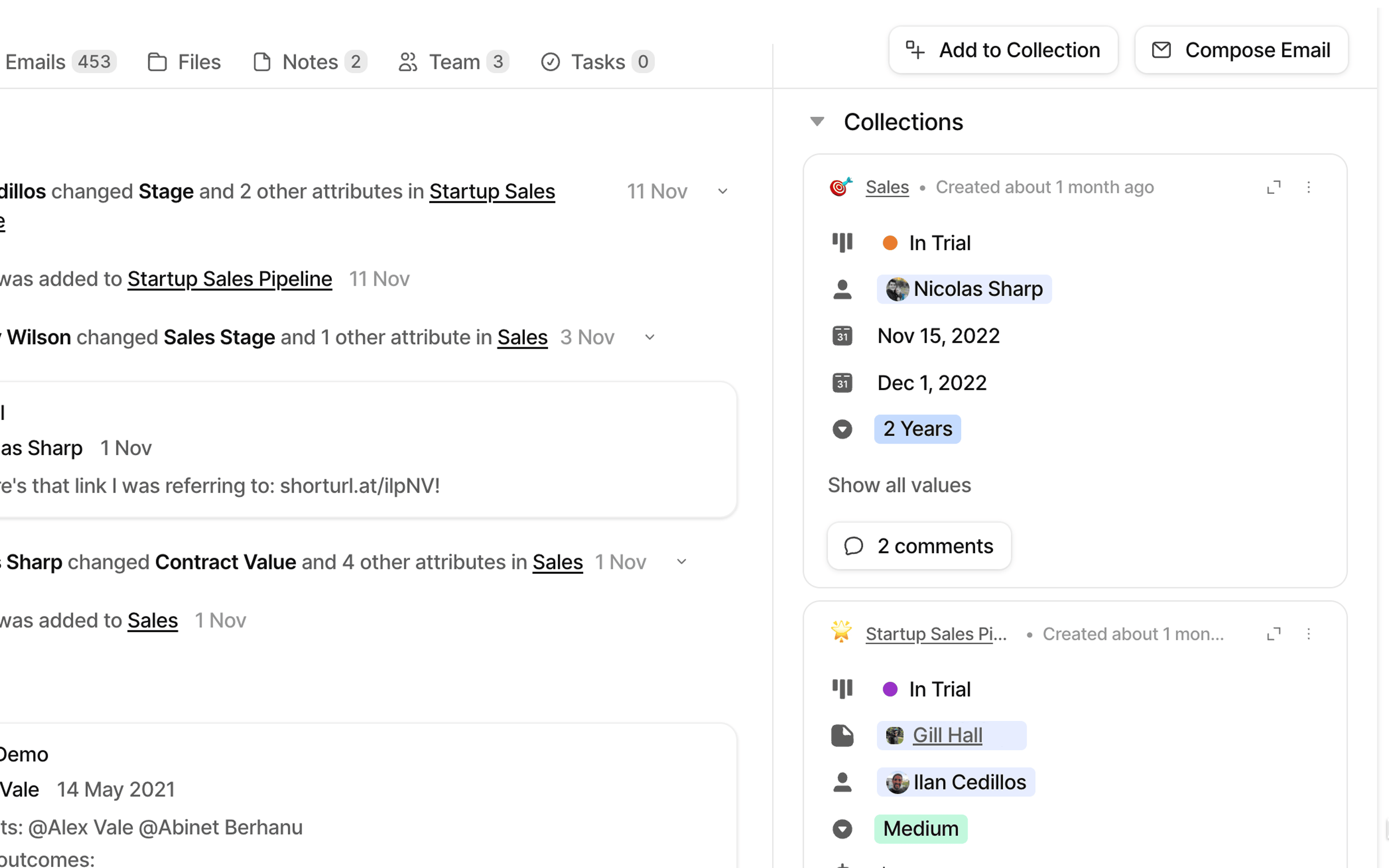 Merging records
Attio's merge feature helps you clean up any duplicate records, merging them into one record. You'll be prompted to merge any duplicates when Attio detects them using the company domain and email address.
What happens when I merge two records?
When merging records you combine all data, list entries, notes, and tasks from two source records into a single record. Emails will also be merged when two person records are merged, and when the person and company records being merged share a domain.
This primary record is the one that remains after the merge, while the other record is permanently deleted. You can change which record will be the primary one by clicking the ⭢ icon between the two.
How do I merge records?
You can manually merge any record with another directly from their profile page.
Click the

⋮

icon in the top right corner of the record page
Select

Merge records

Click

Select a record

to find the duplicate record
Select

Merge records

in the bottom right to combine the data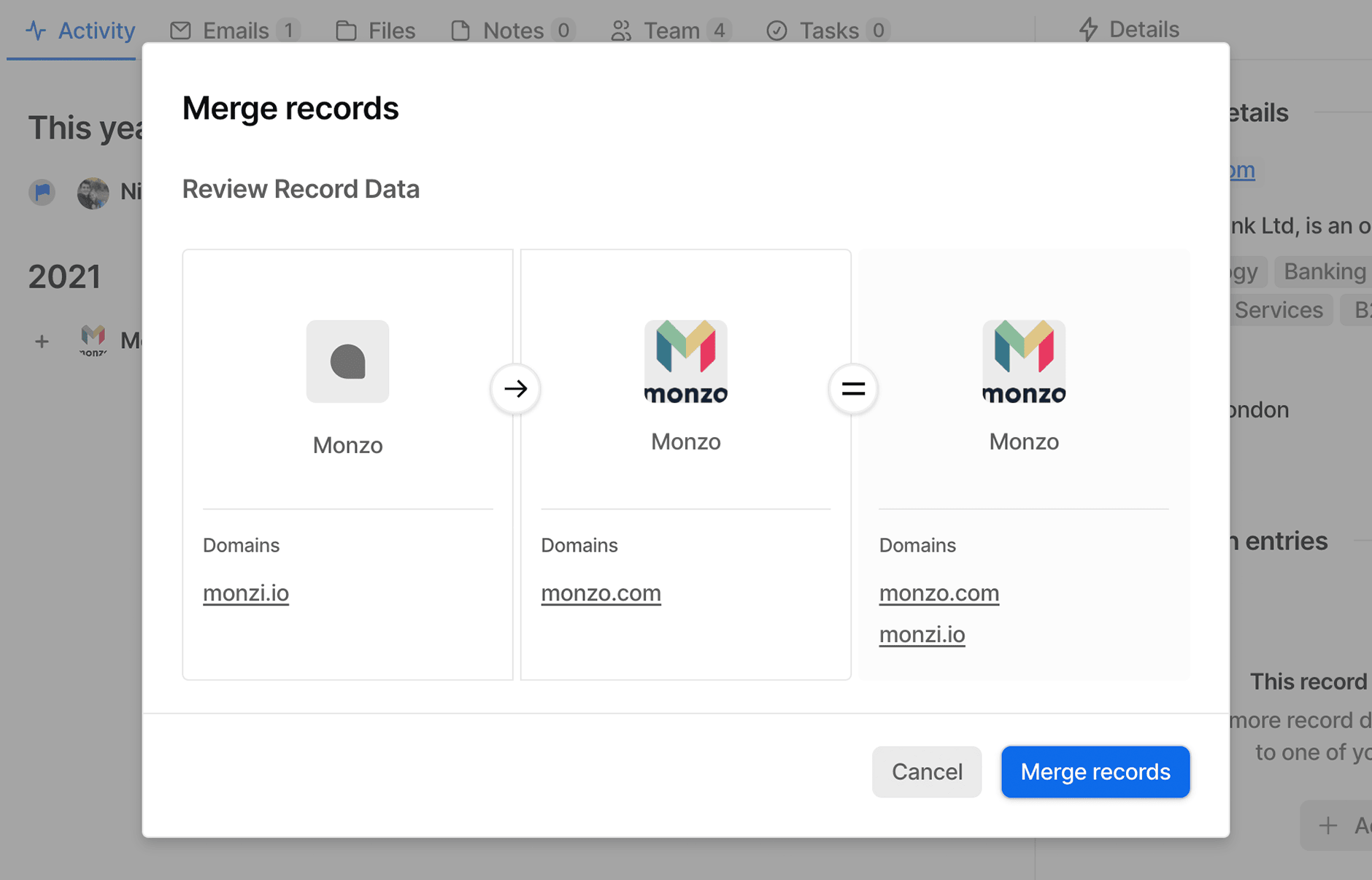 Deleting records
You can easily delete records from your Attio workspace.
Head to Companies or People in the sidebar and select one or more records using the checkboxes beside the record name. From the dialogue box that appears at the bottom of your view, click the More ▾ dropdown. Select Delete records. The record(s) will be deleted for all members of your workspace.
When you delete a record, linked notes and uploaded files will also be deleted, along with linked references to that record in tasks, notes, note templates, and comments. Other records you have previously merged with the record you deleted will not be restored.

Records can also be deleted from individual record pages using the ⋮ dropdown in the top right corner.
Couldn't find something?
Send us a message in the chat on the right ✌️