Collections are fundamental to Attio - a collection is a central space for your workflow or team project.
Collections
A collection is where you add, organize, and track your entries in Attio - entries are references to your records (people or companies). You can create collections for all of your workflows and projects.
A collection can be populated with either companies or people, we call this it's parent record.
Once you have some entries in your collection, you can add attributes such as labels, stages, and other fields to organize your data. Visualize your network with different view types like kanban and table views, and use filters to sort and refine your collection. Collections can be shared with your team, or kept private. Learn more about building a collection in Attio.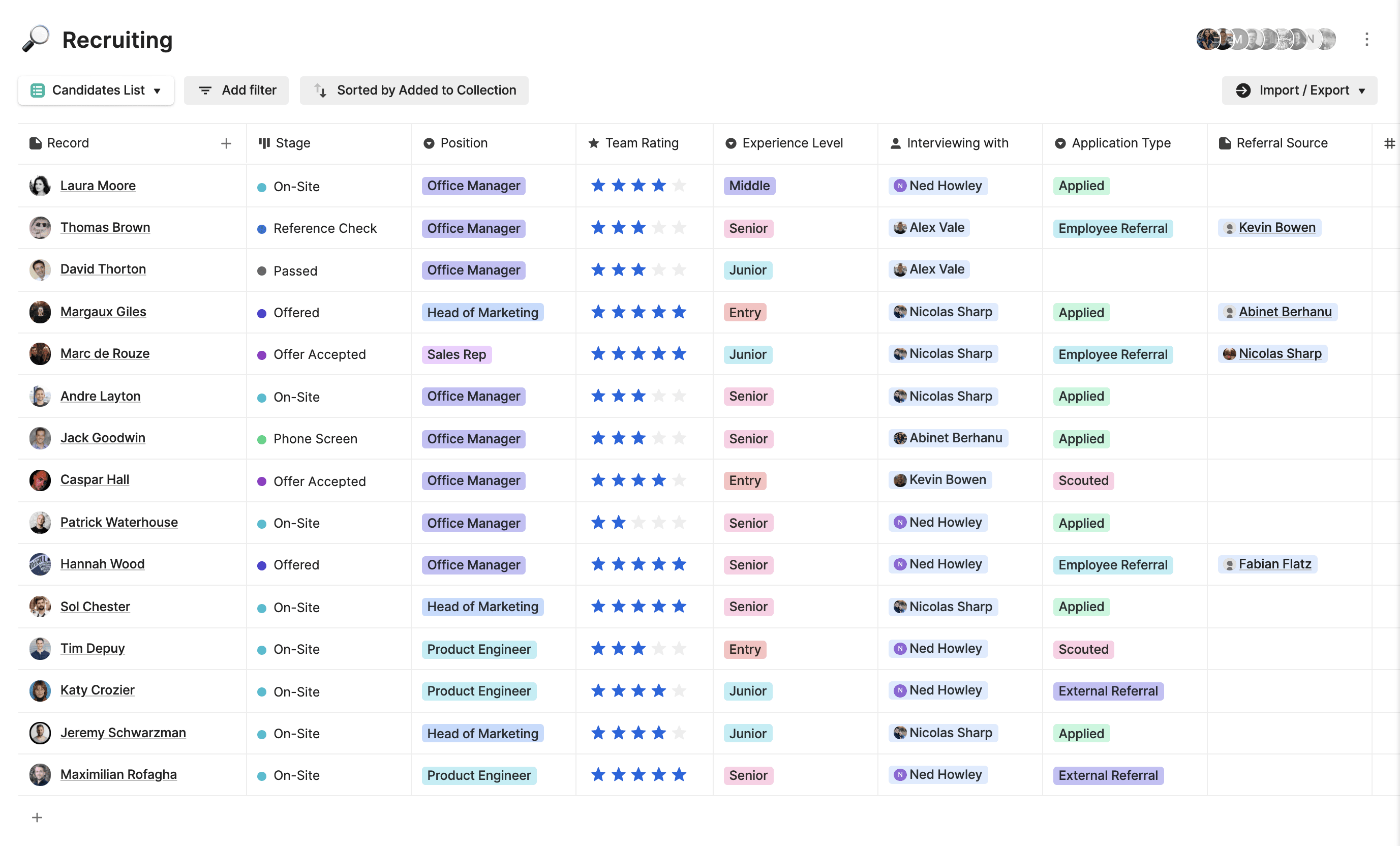 Entries
An entry is an item in a collection that references a record. In the image above, you can see a typical collection populated with entries. An entry might represent a deal, opportunity, candidate, etc. Entries can be a person or company, and are represented as a row in a table view or a card in a kanban view. Learn more about views in Attio.
You can use the keyboard shortcut e anywhere in Attio to create a new entry, or you can hit cmd + k and add an entry from the quick actions menu. If your entry is a reference to an existing record, you'll see their name suggested as you begin to type. If the person or company doesn't yet exist as a record in your workspace, you'll be prompted to create a new record for them.
Deleting entries
In a table view, hover over the entry name to to reveal the check box. Check the box of the entry you want to delete, and select Remove from collection in the top right corner.
In a kanban view, hover over the entry name to reveal the ⋮ icon. Click the ⋮ icon and select Delete entry.
Manage collections
You can create and manage several shared or private collections.
Create collections
To create a collection, select the

+

beside

Collections

in the sidebar
Choose whether you'd like to start with a template or manually set up your new collection
Pick either

Companies

or

People

- you can only have one or the other in your new collection
Give your collection a unique name
Select a view type to start with - choose from a table or a kanban view. Learn more about view types
Using templates
When you create a new collection, you can choose from our collection templates, organized by popular use cases and goals. Choose a template or start from scratch with a blank table or kanban view. Each template comes with some useful attributes and views to help you get started - you can edit and customize your templates at any time.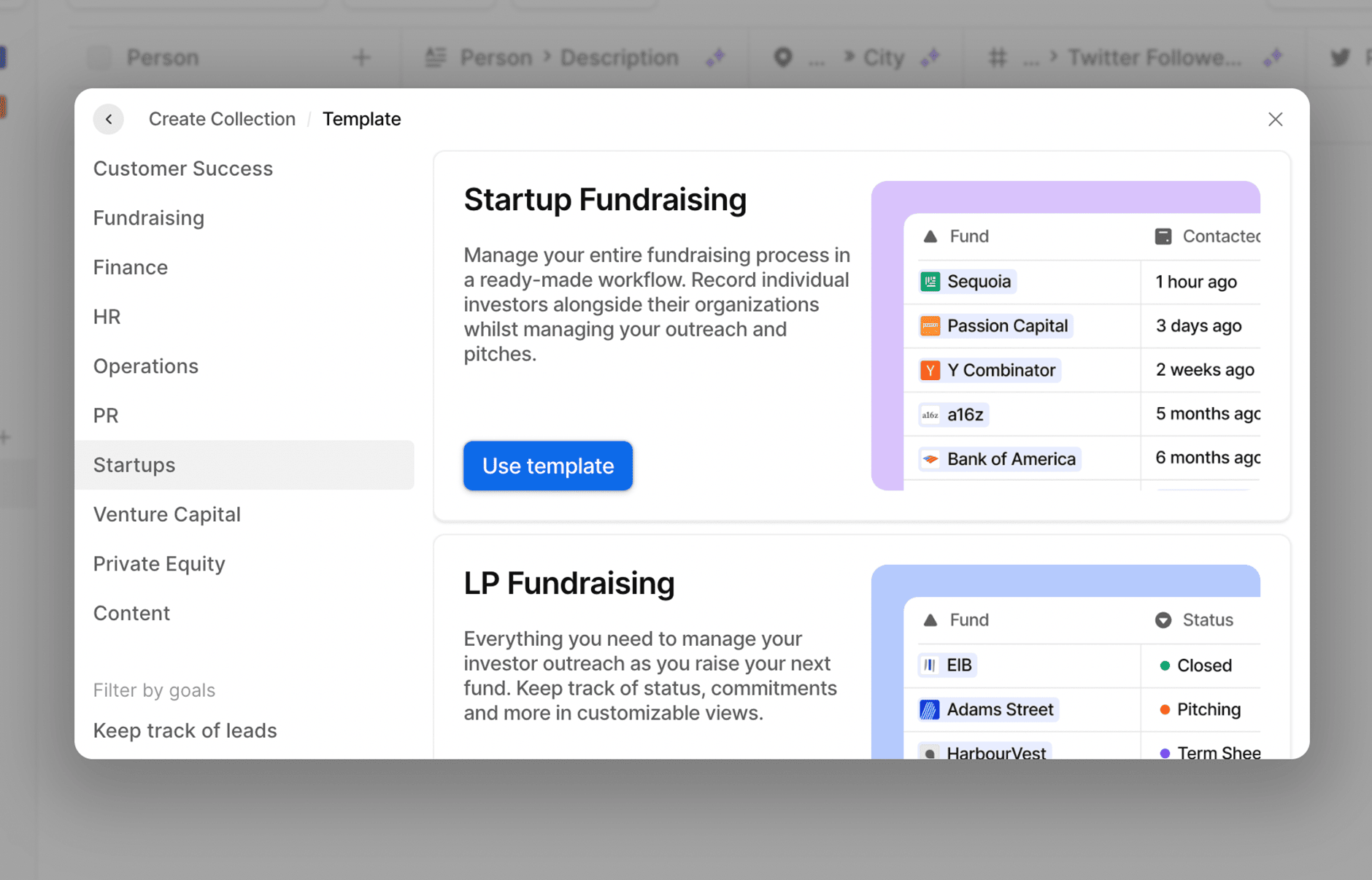 Renaming collections
To rename a collection, select the current name of the collection to edit. Click + to set an emoji or click the existing emoji to change it.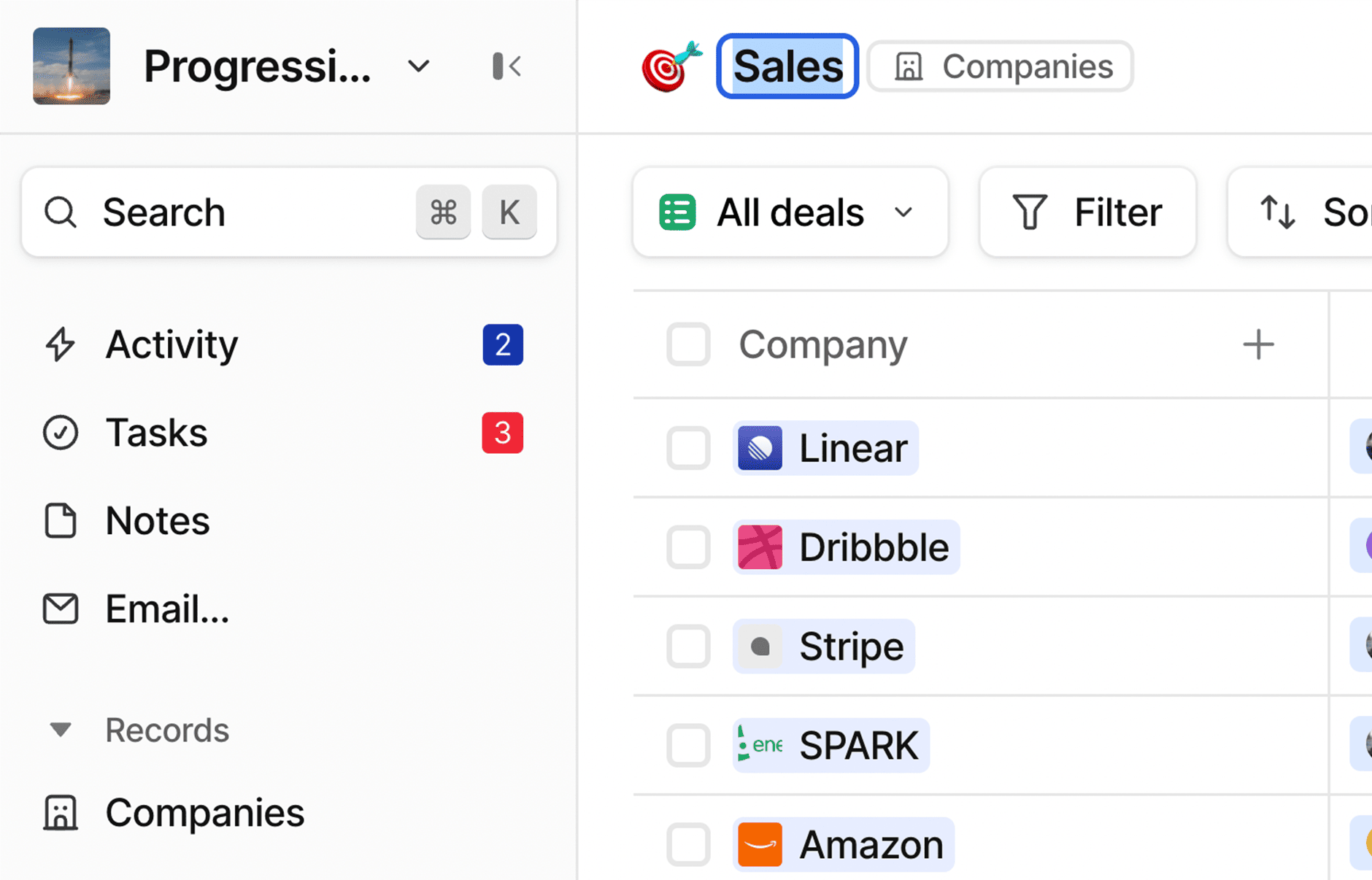 Reordering collections
To reorder your collections as they appear in the sidebar, hover over a collection name and grab it using the horizontal dots icon ::: - drag and drop to reorder.
The order of collections is set across your workspace, and will be updated for all members
Sharing collections
You can share your collections with your team and collaborate in real-time. Learn more about sharing, collaborating, and managing member access.
Deleting collections
Members with full access to a collection can permanently delete the collection at any time. Deleting a collection also deletes the attribute data belonging to it.
Select the

⋮

icon in the top right corner of your workspace. Select

Delete collection 

and confirm