Quickly turn any Attio collection into a customizable report and visualize your data - here's how.
In your Attio collection, create a new view from the view dropdown by selecting Dashboard. If this is the first time you've created a report, you'll then see Add your first chart - click this to begin building your first report.
Customize your report
In the window on the right (under the Chart tab) you can name your report and set the values for your first chart. Choose a collection attribute from the dropdown for the X-axis. An example value might be 'sales stage'.
You can toggle Show empty cells to display all available options for your X-axis attribute. Toggling Show empty values displays entries in your collection that are missing a value for your X-axis attribute.
Now you can choose which value to display on the Y-axis. An example attribute might be 'contract value.' Toggling Aggregate lets you display the values on the Y-axis as an average, a sum total, your dataset's minimum/maximum value, or the total number of values recorded (count). This field is optional and won't be suitable for every report. Toggle Show axis label on to name your axes.

Note: If you've opted to aggregate the values on your Y-axis, the axis label will reflect this change.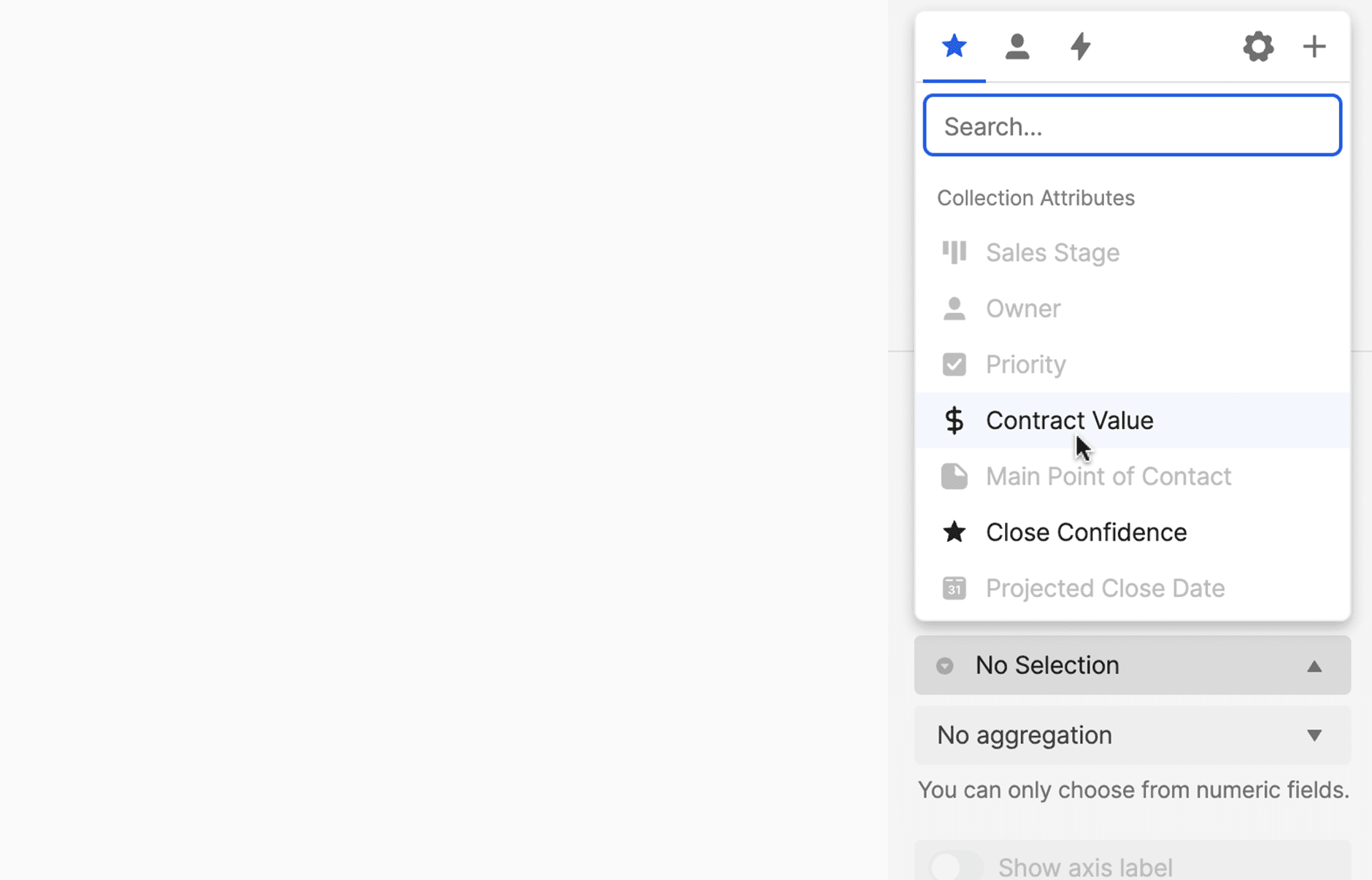 With both axes now defined (and with Aggregate enabled on the Y-axis), you can opt to display a third value by toggling Group Values. Choose your attribute from the new dropdown that appears. You'll now see a color-coded key for the new metric across the top of the chart, and the bars or lines of your chart will change color accordingly. You can also click Stack to change how this looks.
Back up at the top of the chart window, you can switch Chart types. Pick from Bar (useful for comparing relative values), Line (better shows curves or patterns), and Single metric (displays an average, a minimum/maximum, a total value etc). Switching to Single metric will reset any changes you've made to your X and Y-axes.
Reporting in Attio is currently in beta, soon you'll be able to use the Data tab of the right-hand window to add filters, and the Customize tab to make stylistic changes to your chart.
To close your chart for now, click the X in the top left - any changes will be saved.
Note: Once you've created a few charts, you can use the arrows beside the X to cycle through your reports.
Edit or delete your report
From the reports dashboard, click the three vertical dots in the top right corner of your report to Edit or Delete it. You can also move and reorder your reports in this view.
To leave dashboard view completely and return to your collection, simply change the view from Dashboard view back to kanban or table. Having created a report, Dashboard view will always be an option from this menu.
Share your report
You can share your report with your team as long as they're a member of your collection. Grab the URL from the address bar in your browser while editing your report - this link will take those with permission straight to your report, and they'll see any changes you make in real-time.
Presenting or sharing your screen? When in Edit report, hit cmd/ctrl + \ to hide the sidebar and make your report fullscreen.