Attio 101 
1. What is Attio?
Attio is a new standard for CRM - built on top of live customer data, Attio is powerful, intuitive, and easy to use. Whether you're building a pipeline for sales leads or tracking candidates through your hiring process, Attio quickly brings clarity to your data set.
You can turn chaotic databases into intelligent workflows, power up your contacts with new, enriched data points, and collaborate with your team in real-time. Attio is primarily a web app, but is also available as a powerful mobile app for iOS and Android and a Chrome extension.
2. Navigating your workspace
Take a quick tour of your Attio workspace - you'll know your way around in no time. We'll start with the sidebar; home to your Notifications, Tasks, Notes, and more.
Using the sidebar
In this section, we'll talk about how to navigate the sidebar.
The Notifications tab is where you'll find notifications like comments you've been mentioned in, emails you've been granted access to, tasks you've been assigned, and more.
In Tasks, you'll see the status of any tasks assigned to you, as well as tasks you've assigned to others. Learn more about tasks.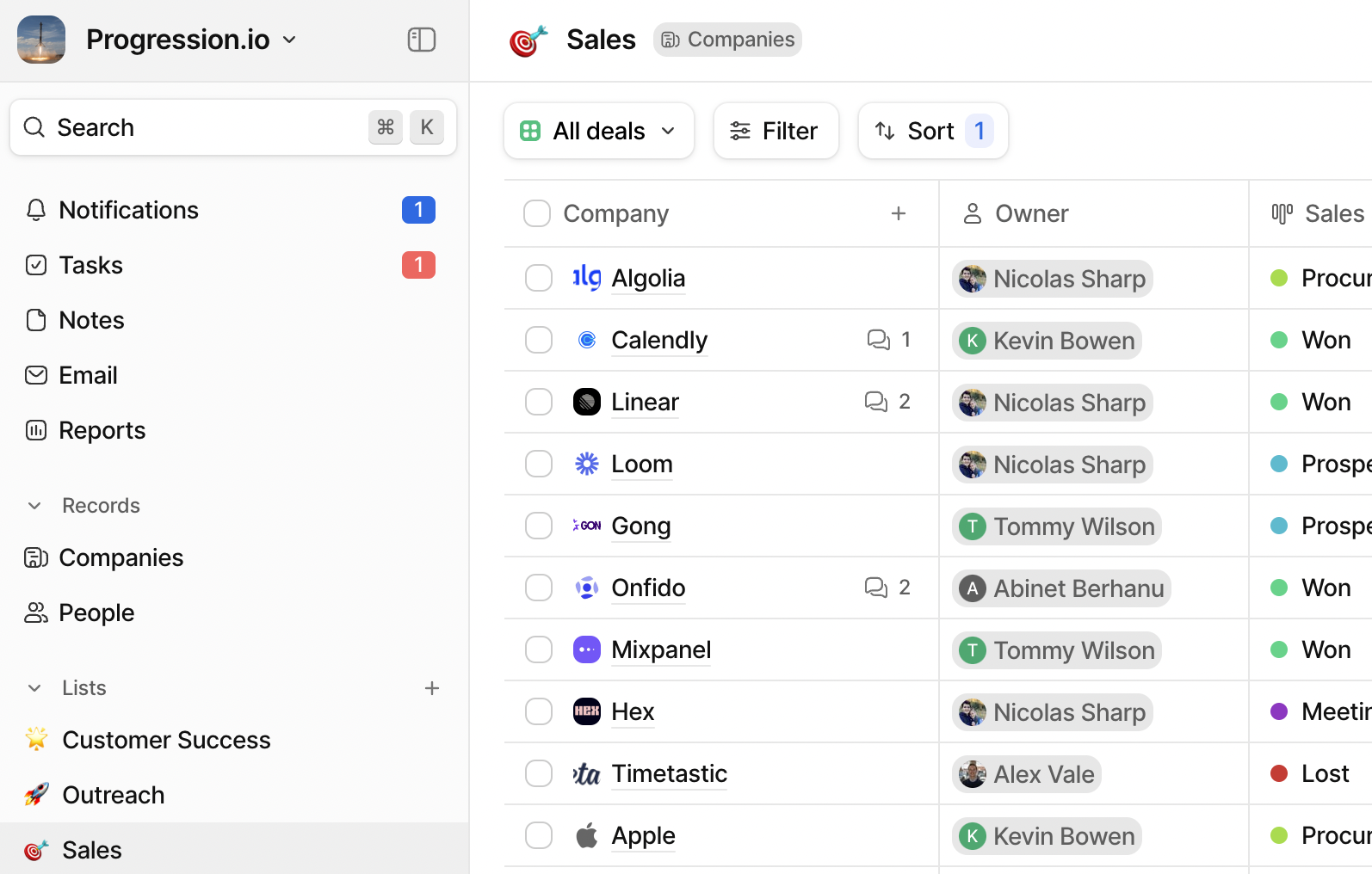 Notes is where you'll find all your team's notes, as well as any note templates you and your team have created (learn more about note templates). Click + Create note to open a new note - you'll be prompted to choose a contact to attach your note to.
Next, you'll see the note editor, where you can compose and format your note. Highlight your note text to see all formatting options such as headers, bullets, numbered lists, and more. You can tag your team members or your workspace records with the @ key, and link your notes to calendar events using Add event.
Notes can be pinned to the bottom of your screen with the ↘  icon in the top right of the note editor. You can also create a new note by hitting the n key anywhere in Attio. Learn more about notes.
Under Emails you'll find your own email drafts as well as email templates created by anyone in your workspace. Learn more about sending emails in Attio.
Reports allow you to create dashboards and highly customizable charts to visualize your lists and records data. Learn more about reports.
Using cmd + k (quick search/actions)
At the top of your sidebar, you'll see the search box - you can also bring up the search window with the cmd + k shortcut anywhere in Attio. Use the search window to quickly find anything from people and companies to calendar events and social media handles.
You'll also find suggestions for Quick Actions - powerful shortcuts that differ depending on where you are in the platform.
Additionally, the search window shows you a helpful snapshot of your calendar events for the day - including participant details and quick-links to video calls.
The sidebar is also where you'll find your various Attio lists - home to your workflows or projects. We'll cover lists in the next section.
Keyboard shortcuts
Attio supports over 30 keyboard shortcuts for commonly used actions. You can use the following keyboard shortcuts anywhere in Attio:
Global shortcuts
Create a new note with

n

Create a new task with

t
For a full list of Attio's keyboard shortcuts, hit the ? key anywhere in the platform.
3. Using lists
Lists are fundamental to Attio. They're home to your workflows or projects such as hiring lists, sales flows, and deal portfolios - you can have as many lists as you like.
Lists are also highly customizable - you can choose to visualize your data using different view types (like tables and kanban boards) and use stackable filters to drill down to what's most important.
In this section, we'll talk about how to navigate, build, and customize your lists in Attio.
To create a new list, click the + icon next to Lists in the sidebar. You can then choose to browse from Attio's ready-made templates or start from scratch.
For this course, we'll choose a template. From the template gallery, you can search list templates by keyword or browse by use case (sales, investing, recruiting, etc). Choose the Sales template and click Use this template.

When starting with a template, you'll find a few things already set up for you. Across the top of your table view (we'll cover the different view types a little later) you'll see some pre-made columns such as Main point of contact, Owner, and Projected close date. These column headers represent your list attributes and you can edit, remove, or add to these at any time. Learn more about lists.
Attributes
Attributes are customizable data points you can add to your records and track in Attio. For example, you might want to track contract values in US dollars, close confidence shown as a star rating, or projected close dates. Attributes can be brought across from a data import, added manually by you and your team, or automatically populated by Attio's data enrichment.
You can click on an attribute's header cell to sort, move, edit, or hide it. Scrolling all the way to the right reveals the + icon for adding new attributes. Learn more about attributes.
Views
In Attio, views allow you to see your list in different ways. You can switch between views, customize them, and apply filters to get the most out of your list data. The main two view types for lists are table views and kanban views.
Table views resemble a database and are the default view for all new lists. You can track a list of people or companies, with attributes represented by a column. Learn more about table views.
Kanban views are more visual, and let you track cards through the stages of a workflow or process. You can move people or companies through your pipeline with drag-and-drop. Learn more about kanban views.
To create a new view, open the view dropdown beneath your list name. Select + Create new at the bottom of the dropdown. Next, select the type of view you would like to create.
If you create a kanban view, you'll be prompted to add a status attribute so that your cards can be tracked through stages.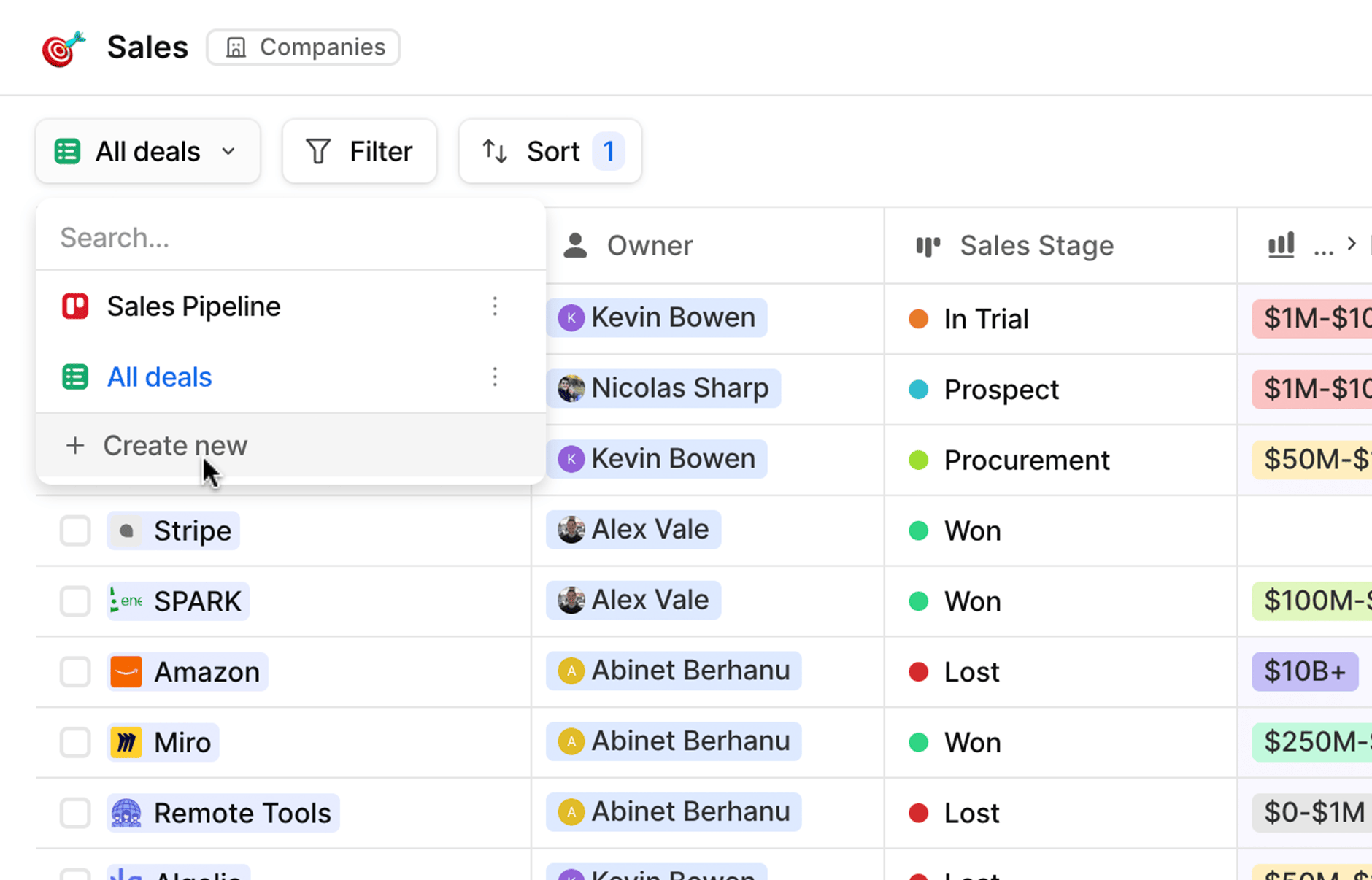 Records
A record is a person or a company in your Attio workspace. Records are created when you sync your email or are manually added by you and your team. Clicking on a record in a list will take you to the profile page of that record. Here you'll find enriched data, email interactions, files (including third party cloud storage), and notes for your record. Learn more about records.
If you have synced your email, you can compose an email from a person record page with c.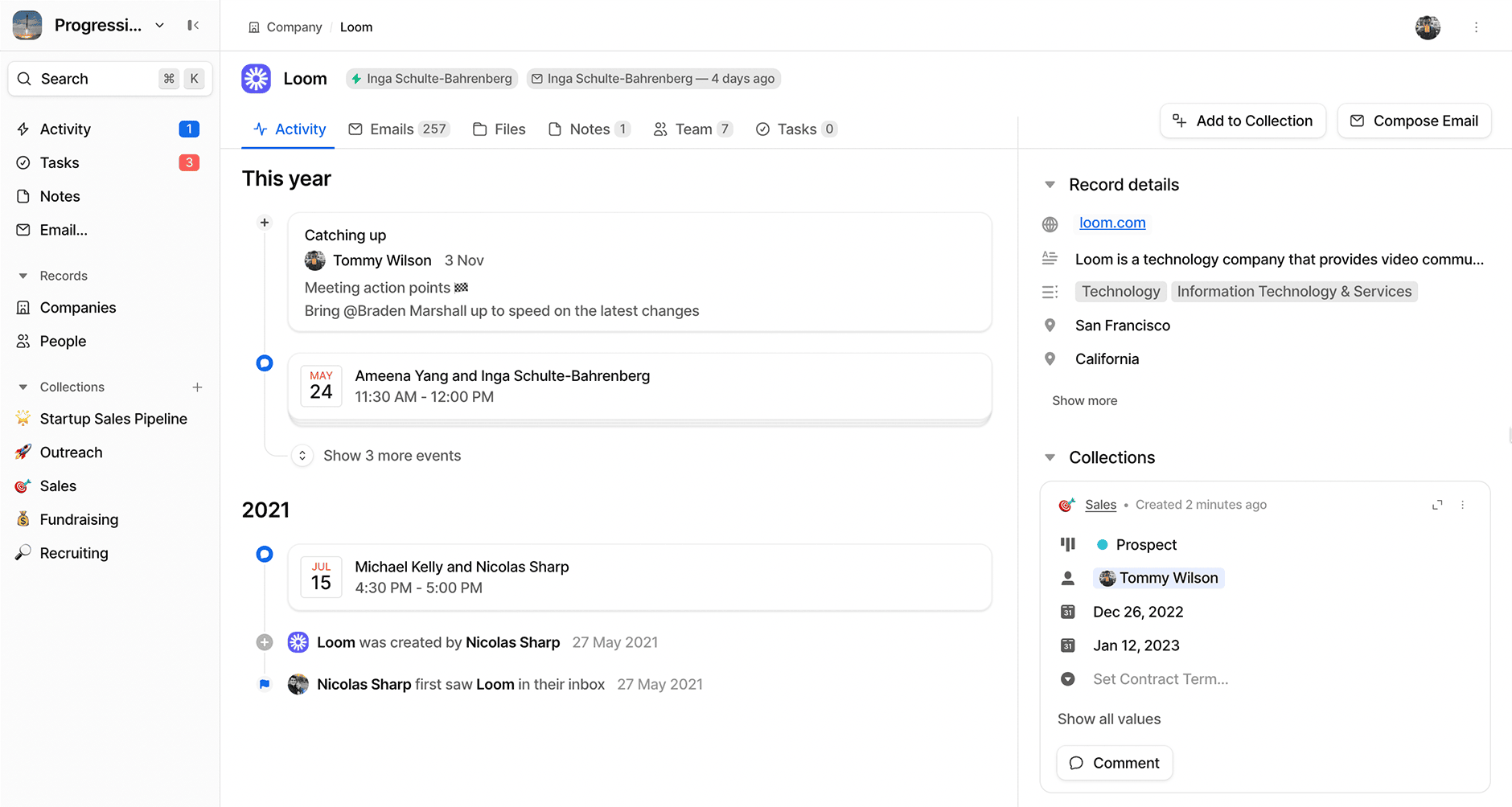 In the sidebar under Records, you'll see both Companies and People - this is where you can access all records data for each. Just like in a list, you can create as many table views as you like. Click the views dropdown to the left of Filters and choose + Create new to add a new view, or access an existing one. Learn more about all records.
Filters
List views can also be filtered - a filtered view only shows data that meets certain criteria, and hides the rest. You can apply multiple filters at once. For example, you might want to see which companies in your list have a close confidence rating of 3 and above, with an estimated ARR greater than $50m.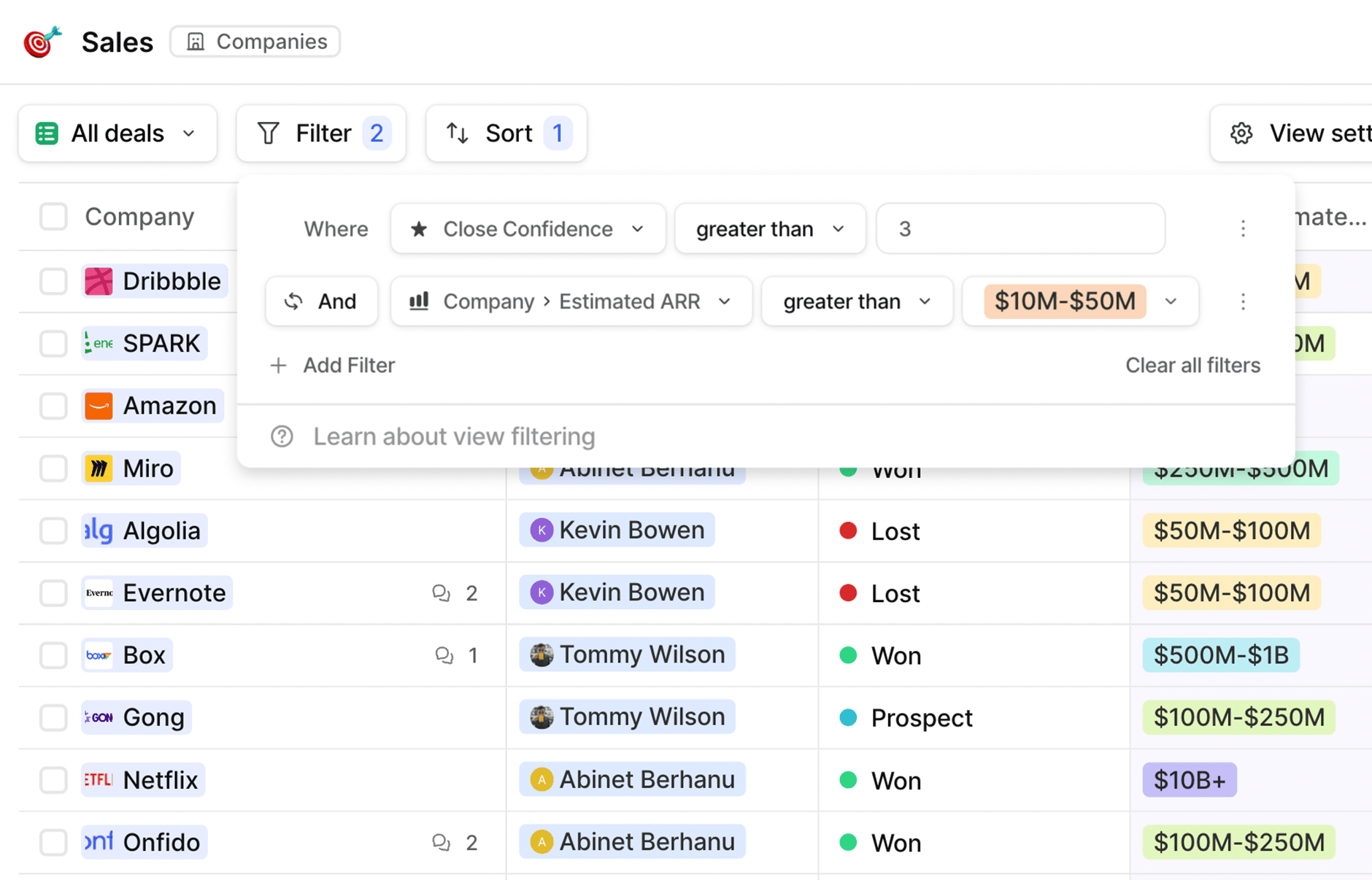 To create a filter, click Filter at the top of your view and select the attribute you'd like to filter your records by. Select the condition of your filter (contains/is equal to/is greater than etc) followed by the appropriate value. To remove a filter, click the ⋮ icon followed by Remove block. You can also create filter groups to change how your filters interact.
4. Collaborate and share with your team
Attio is built for collaboration. Changes you and your team make in Attio are always shown in real-time - so wherever you are in the platform, you're always looking at the latest version.
Sharing lists
If you're a workspace admin, lists can be shared with your entire workspace, or just certain members. To share a list with another member, click the + icon in the top right corner of your list. Search for their name and set their access level - access levels determine what members can see and do in your list. Learn more about list access.
To share a list with everyone in your workspace, follow the same steps as above, but use the Workspace access drop-down. Here you can control what everyone in your workspace can see and do.
Sharing emails
In this section, we'll cover how emails are shared with your team in Attio.
By default, anyone in your Attio workspace can see if email correspondence has taken place between your team and a record. For example, someone in your workspace could search for a company (let's say Stripe), click the Emails tab of their profile, and quickly see who else has previously corresponded with Stripe via email.
By default, your team can only see metadata (participants and timestamps) as well as the email subject line. However, if they want to see the actual content of the emails, they'll need to request access. You can manage your access requests via the Requests tab in the Activity section of the sidebar.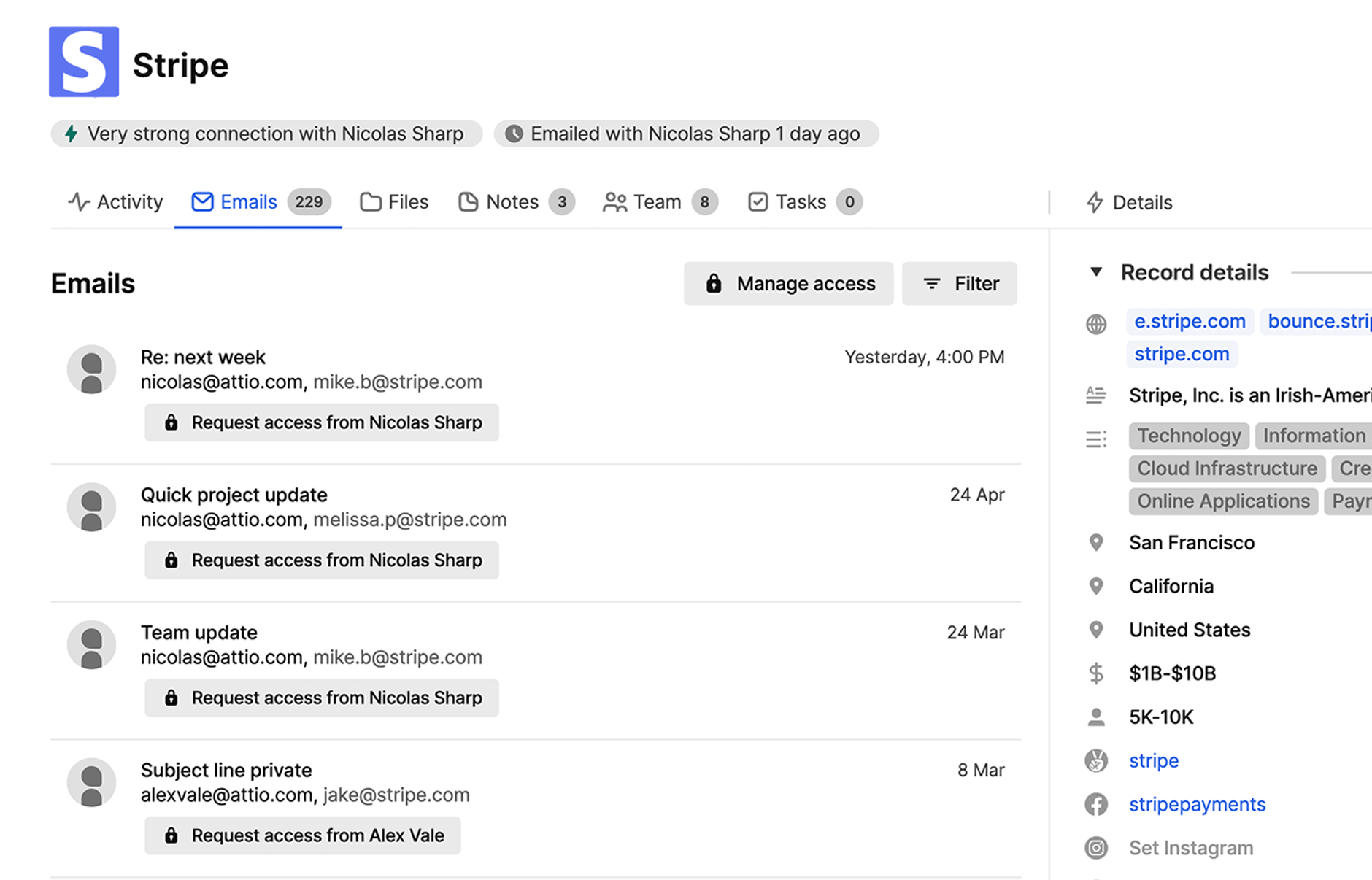 To request access to an email, you'll see Request access beneath each email in the Emails tab of a record's profile.
You can manage your default global permissions for email sharing in your Account settings. Click on your workspace name and from the dropdown pick Account settings. Click Email & Calendar, followed by the connected account you wish to manage. Click Mail to expand the section - from here you can choose what other workspace members will see.
So now you know your way around the Attio workspace! You've created a list, added records, and collaborated with your team. Dive into the rest of our support docs and become an Attio power user!
Couldn't find something?
Send us a message in the chat on the right ✌️