Sharing and collaborating 
Whether you're working alone or with a team, Attio is built to bring clarity to your workflow and your network.
With real-time updates, shared networks, and @mentions throughout the platform - Attio makes collaboration easy.
Real-time collaboration
Several members of your team can view and edit content at the same time. You'll know who's viewing what you're viewing (their avatar will appear in the corner). In table views and notes, you'll be able to see where another member's cursor is too. All changes are updated in real-time, so you'll always be looking at the latest version.
Mentions and notifications
Assign tasks, start conversations, and @mention teammates to pull their attention to the right place. You can @mention members of your team in notes, tasks, and comments - they'll receive a notification in the sidebar. Hit the @ key and start typing their name to get started.
In-app notifications are found in the Activity menu in the sidebar, and you can respond directly from here. You can also opt in for email notifications in your Account settings.
Comments
Start a discussion, provide updates, or leave short comments on list entries. Hover over an entry cell or kanban card and click the speech bubble icon to compose and view comments.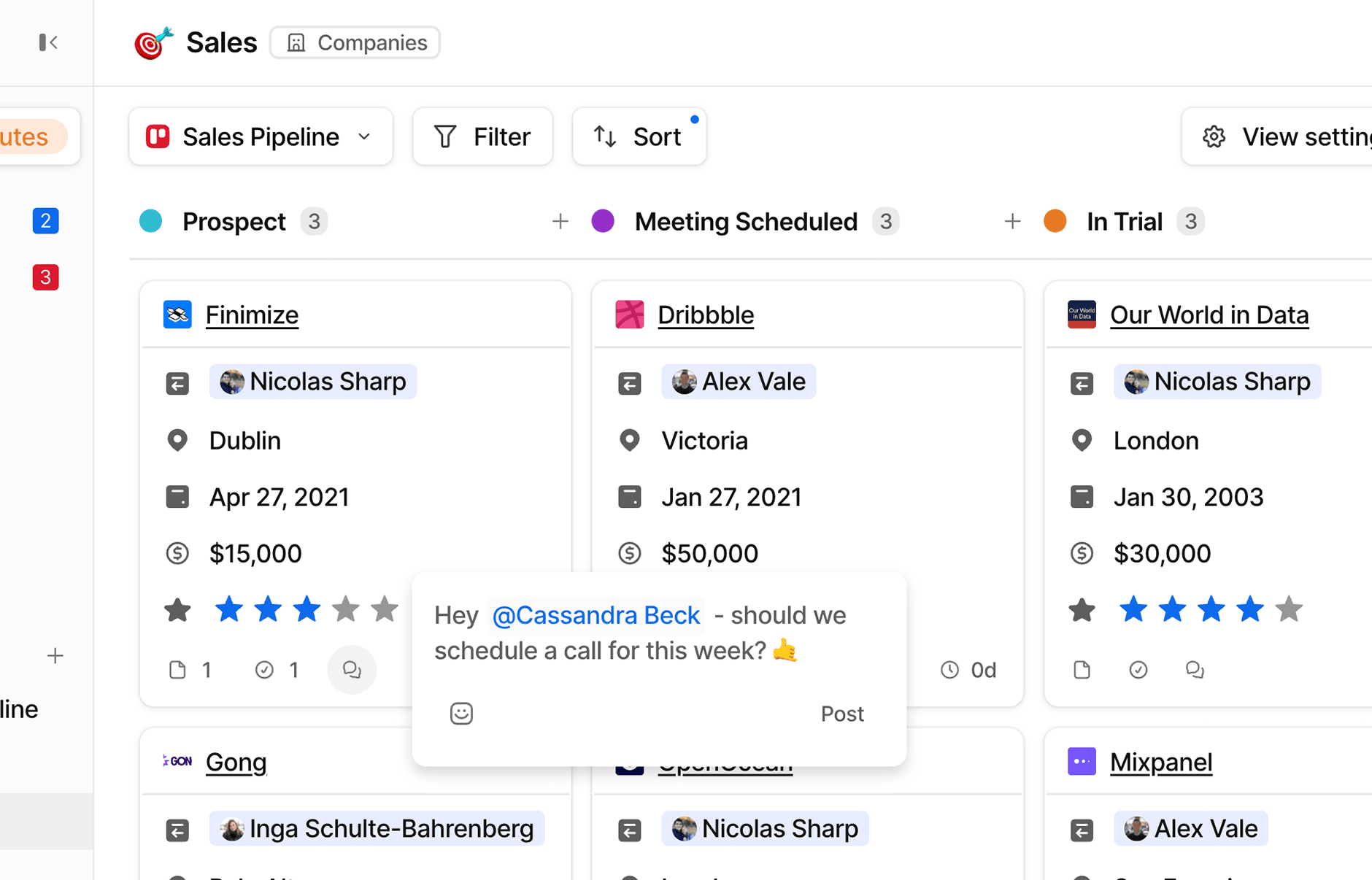 You can @mention other members of your team in a comment - they'll receive a notification in their Activity tab. You can also @mention people or companies in your network to create quick links to their records - they won't be notified.
To delete a comment you've added, open it and select the ⋮ icon to the right of the comment, then click Delete.
Sharing with your team
You can invite your team to your workspace as either workspace admins or members - what they can see and do will depend on their level of access. Learn more about managing members.
Sharing lists
A list is a home for a specific workflow or project. Lists can be shared with your workspace, or certain members of your team. Learn more about list access.
Email sharing
When you sync your inbox with Attio, your emails are brought into your workspace, organized by record. You can always view your own emails, but they won't be shared with other members by default.
Couldn't find something?
Send us a message in the chat on the right ✌️