As a startup, customer acquisition doesn't end when they buy your product. Instead, it is the beginning of a constantly evolving relationship where every interaction holds a new promise. The real craft lies not just in maintaining that relationship but in navigating the avenues of upselling and cross-selling, both of which are cornerstones of a SaaS business's growth strategy.
Upselling and cross-selling both aim to enhance a customer's experience in different ways. While upselling refers to encouraging customers to upgrade their current product plan, the latter introduces the same customers to a different product range. Figma does a great job at both. An example of what they upsell are the plans they have for their product for design and development, which ranges from an unpaid Starter plan to the Enterprise plan (£70 per editor/month). This counts as upselling because they are all the same product but with differentiations to aspects such as workspaces, guest access, and plugins. Since Figma has two separate products, they can also cross-sell by introducing their existing customers to another product, FigJam, for whiteboarding and brainstorming. Ultimately, the common goal for upselling and cross-selling is to maximize the value of each customer.
Mastering the art of upselling and cross-selling is incredibly difficult, even for large enterprises with endless amount of resources. Since they are separate concepts, the hurdles you will face may differ. For upselling, the biggest challenge lies in recognizing the potential of your existing customer base as you aim to get new deals. For cross-selling, the struggle is balancing the relationship between teams within the same company. It is crucial to tackle these issues to optimize the chances of upselling and cross-selling for your SaaS startup.
Overcome hurdles with Attio
Data is the number one aspect to focus on when we want to overcome the challenges above. Without it, you would be left in the dark, lacking a clear picture of who you're targeting.
This is why we have built a series of enrichment and integration tools to provide insight for your Sales team. With enriched data, not only does basic information like ARR get populated on your company records, but the strength of your relationship with a customer is also determined based on your email and calendar interactions. This can save you the time spent on research and calculations, allowing you to focus on identifying trends for upselling and cross-selling.
Automate your sales process
Efficient response rate is essential for winning more deals. If you can save time on manual tasks, you are already one step ahead. With Automations, you no longer have to worry about missing an upsell or cross-sell opportunity because we have created several templates that can optimize your process.
Act on your customer engagement data
From the data stored within Attio, you can observe trends in your customers' product usage. This information can be a game-changer for you as it can indicate interest and opportunities to upsell. There are two workflows from the templates library that you can use to keep track of attribute updates and get task reminders.
Plan exceeded tracker template
Use the plan exceeded tracker template
This template is aimed at increasing conversion by reminding you when a customer exceeds their free plan's limits. This metric can be seat counts, but it can also be any other metric that you have in your product plans. So if the number of seats included in your free plan is 3, then this workflow will automatically assign you a task to reach out when a customer has breached that limit. With this, you'll get a better chance at turning your free plan users into paying customers, further enhancing your relationship.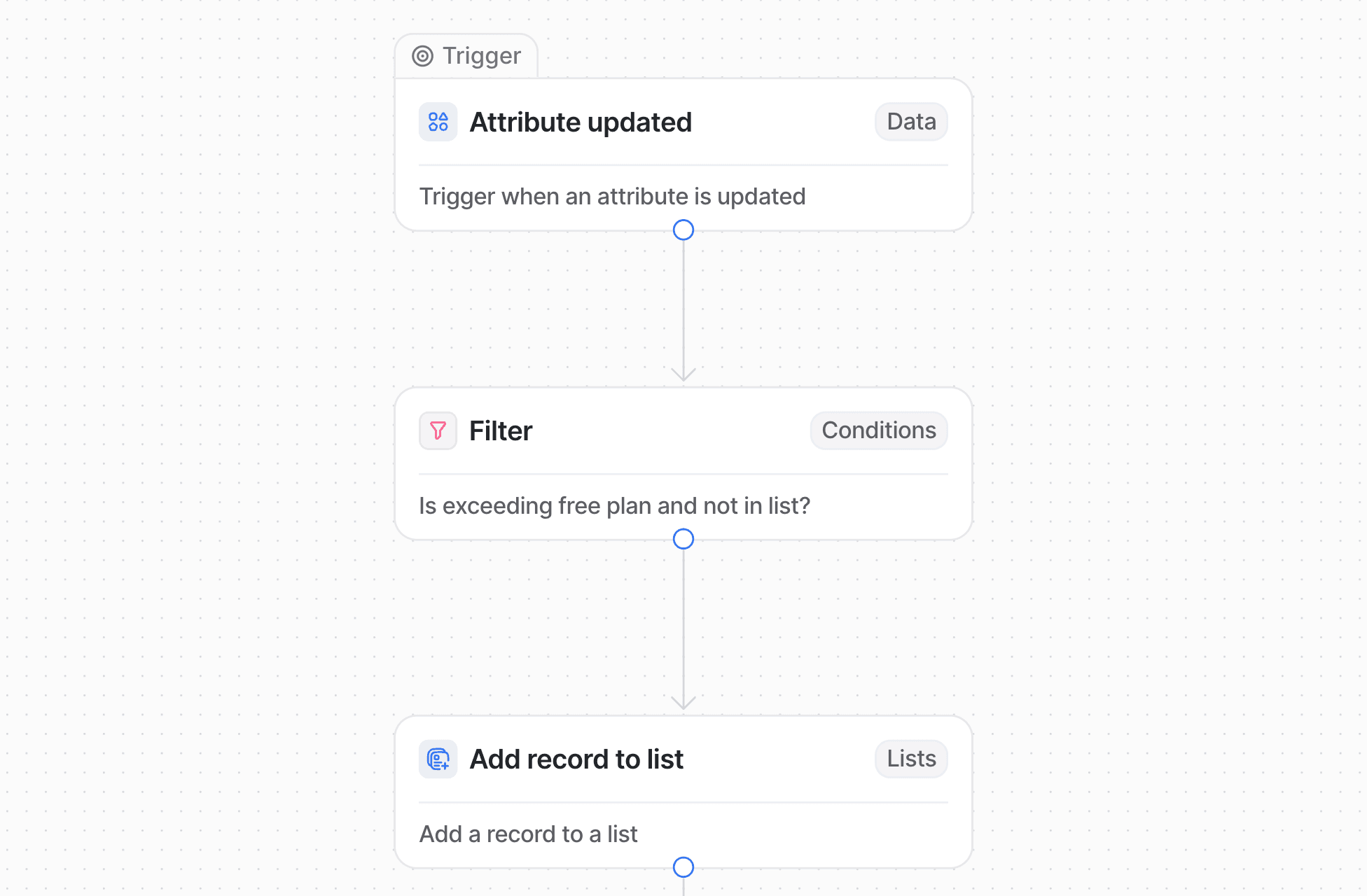 Add people to MixMax directly from Attio
Create 'Add to MixMax' button template
Use the create 'Add to MixMax' button template
By integrating your MixMax with Attio, you can make your sales process more effective. With the ability to create multiple sequences with different focuses in MixMax, you can have a variety of tailored sequences based on circumstances. Leveraging the power of MixMax, this workflow will give you manual control on which record to route to a sequence with a simple button. By adding this command action to your records, you'll have a good amount of manual control paired with the benefits of automation.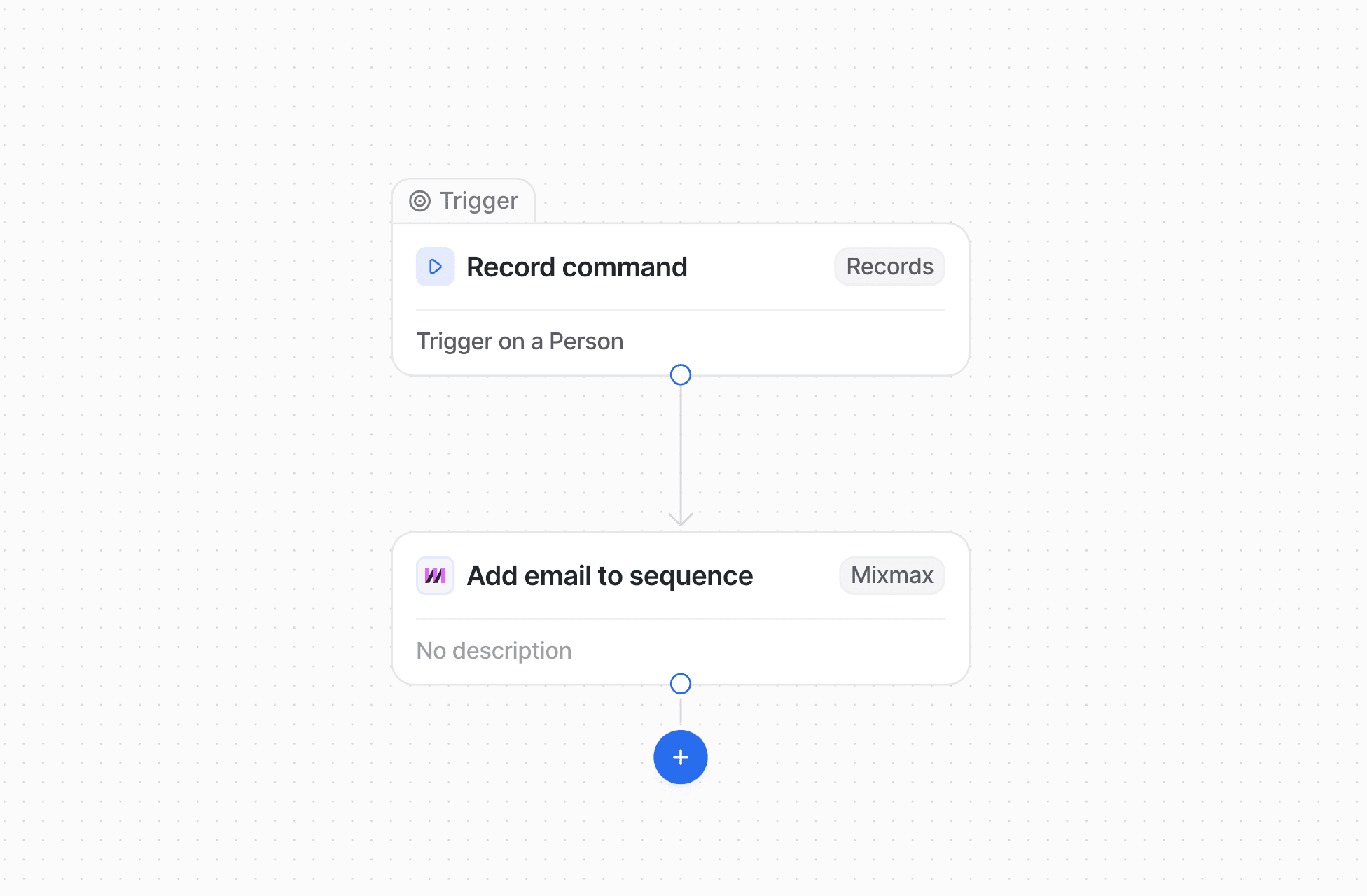 More tips from us
Know your market and ICP issues inside and out The better you understand your target audience and the market, the more effectively you can tailor your upselling and cross-selling pitches. Understanding your customers' problems will give you a greater chance to offer value with the product you're selling.

Treat every call as a discovery call Even though you are targeting existing customers, each conversation presents an opportunity to learn more about their needs and challenges. Approaching each call with a fresh perspective will allow you to identify gaps for an upsell/cross-sell.

Multithread from the beginning While initially only one team from a deal requires your product, other teams may express interest down the line. Build relationships with multiple departments within a deal from the beginning to maximize the chance of cross-selling later in the sales pipeline.

Provide value early Before you even think about upselling or cross-selling, make sure your customer fully recognizes the value of their current purchase. Once your customer acknowledges the value of your product, they'll be more receptive when you introduce an upgraded or different product package.