UPDATES
What's new?
A rundown of the latest Attio feature releases, product enhancements, design updates, and important bug fixes.
Improvements to record pages
We've just added even more functionality to record pages. Check out the new Add to Collection and Compose Email buttons on record profile pages.
You now can also remove individual contacts from the Team tab of a company record.
We've made some small but important visual tweaks to each page too - we think they look better than ever. Look out for more specific icons, indicators, and illustrations across profile pages!
2022-12-21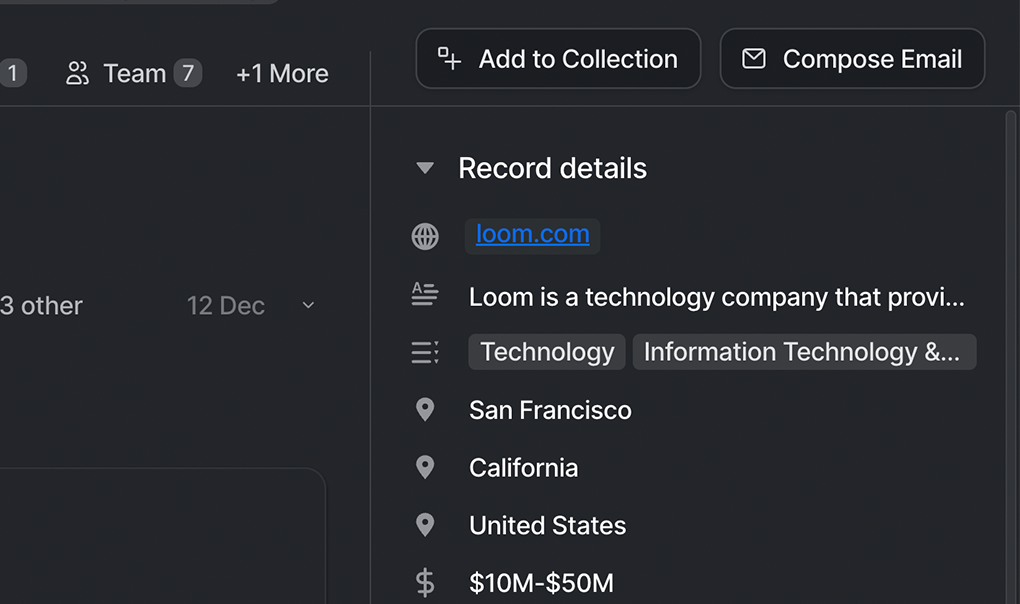 Improvements to automatic record creation
Our latest update is all about housekeeping - keeping unsolicited email senders (marketing, spam, etc) out of your Attio workspace.
For all new workspaces Attio will only create records for recipients of your outgoing mail, plus those found in your calendar. We won't create records for senders of emails you don't respond to.
For existing workspaces, admins can toggle this setting on (it'll be set to off by default) in the Email and Calendar tab of your Workspace settings.
Toggling this setting on/off won't remove any existing records already created.
2022-12-05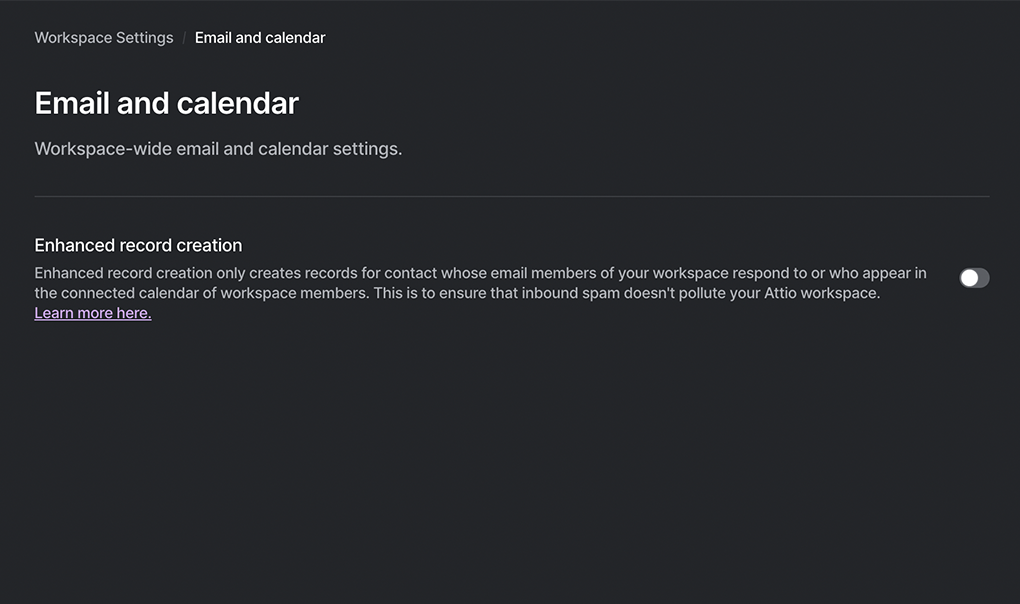 Collections overhaul
We've just finished a complete upgrade of the contact list experience in Attio.
Collections are now powered by Particle, our groundbreaking new data model we've built. That means you can drill down and filter your collections at insanely fast speeds.
You can run multiple filters at the same and use tier sorting to organize your records in any way that comes to mind, on both tables and kanban.
2022-11-04
Kanban update and redesign
Workflows in Attio have gotten a major redesign and upgrade. Kanbans now work and look better than ever before.
You can select and drag and drop multiple cards in addition to leaving comments, notes and assign tasks in real-time on each record.
2022-10-24
Bulk personalized email sending
Starting today, Attio users are now be able to send highly personalized emails en masse — leveraging dozens of enriched data points as variables, as well as any custom attribute or data points from integrations you've created to create truly impactful conversations with your customers.
Additionally, whatever templates you have can be created, saved, edited and collaborated on in real-time — just like a Notion or a Google doc.
All you've got to do is hit a single keyboard shortcut (c) from anywhere within our platform to get going.
You can also quickly access a collection, segment and select your audience in any combination, and start writing highly personalized emails to contacts with just a few clicks.
2022-09-01
All records
We've just launched All Records, a feature that is not just new to Attio but also completely new to CRM.
Starting today, Attio now gives you an instant global view of every single person and company you and your team have ever interacted with.
No data input is required, and every record is updated in real-time and enriched with relationship intelligence data.
‍You can organize, filter, and view your records in any combination and create new collections at insanely fast speeds.
This is a really big deal and only possible because of Particle, our amazing underlying data architecture. Particle processes data in real-time using parallel computation, allowing us to deliver the fastest and most flexible CRM ever.
Learn more about All Records here.
2022-07-01
Sidebar redesign
No part of Attio goes unnoticed when it comes to continual improvements and polish. This time we've redesigned the sidebar. The new design means that it's possible to fit more information into a sleeker and easier to use form.
2022-04-01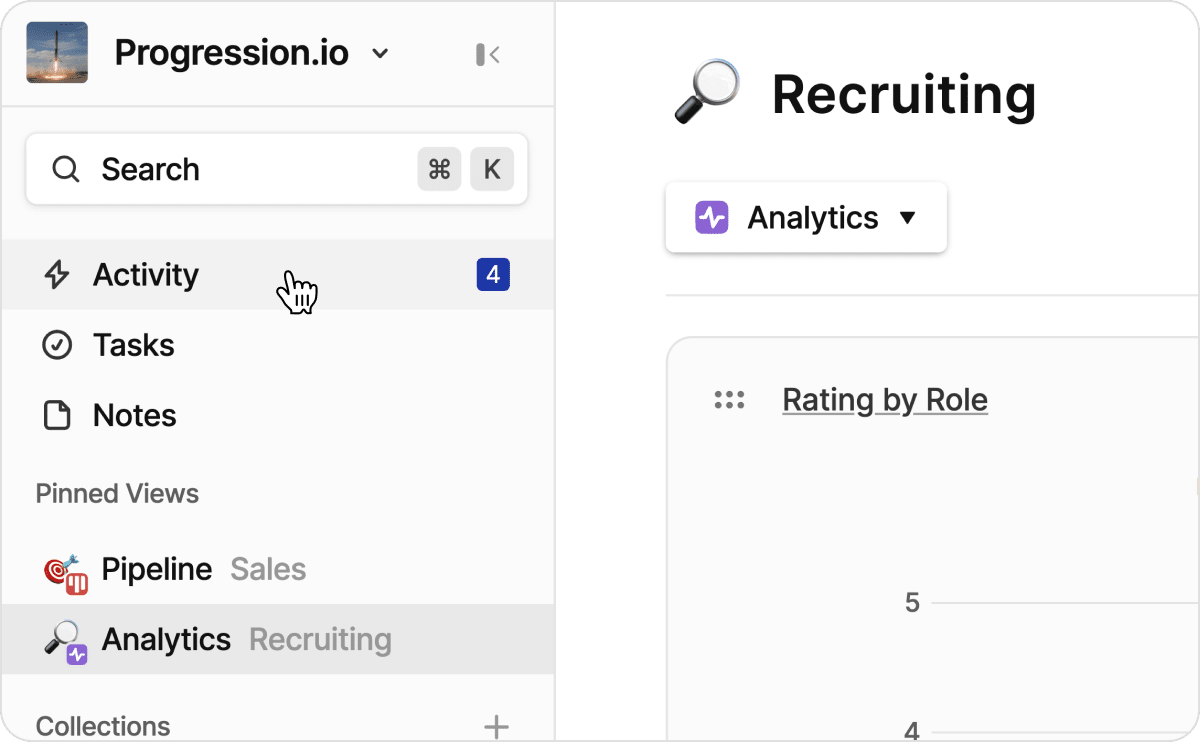 Filtering and sorting improvements
We've added even more ways to filter and sort views, this time with a focus on communication data. You can now use properties like 'Last meeting with', 'Next meeting at', and 'Time in status'!
2022-03-02
Email sending
We're super excited to announce this one - being able to send emails from inside Attio is one of your most demanded features and it's out of beta.
Everyone's now able to send emails to any contact in a workspace, directly from the built-in email editor, simply by pressing c. The editor has all the same formatting options as notes, and if you're an Outlook user then it also supports open tracking!
We've got big plans for templating, batch sending, and automations so stay tuned for more updates. In the meantime, happy sending!
2022-03-01
Kanban improvements
Another quality of life improvement. Each entry's status can now be updated from the '...' context menu on its kanban card. This makes it easier to move cards across significantly wider kanban boards and means you'll no longer need to have status as a visible attribute.
2022-02-01