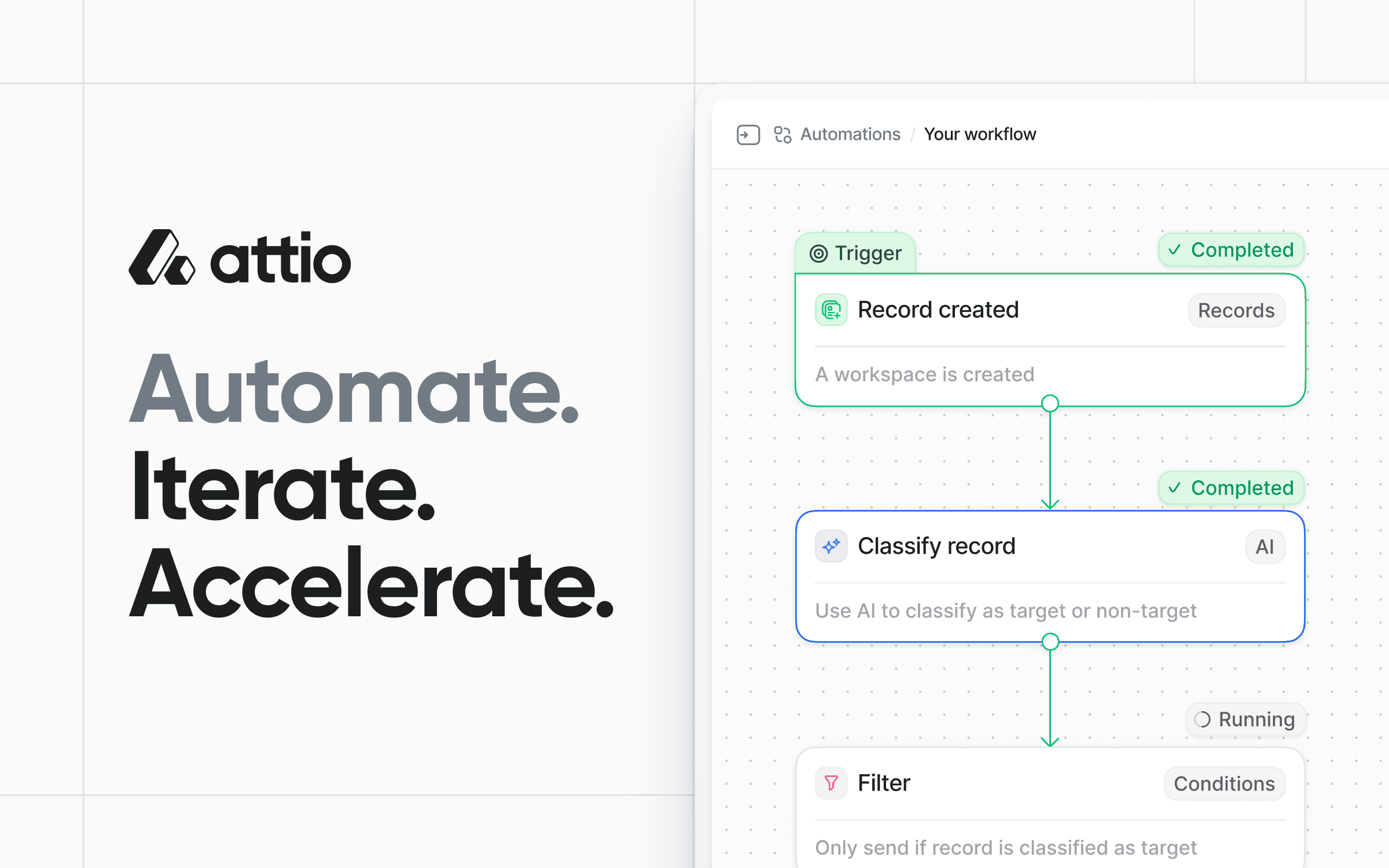 After seven months of non-stop building, we're excited to announce Automations, our powerful new feature that allows you to build and automate any process right inside of Attio.
Build systems that automatically route leads based on their potential, or auto identify customers based on their subscription and product usage data. Run AI-driven actions, perform complex calculations, auto-assign tasks to teammates and so much more.
Plus, we've integrated with popular tools like Outreach, Slack, Mailchimp, Typeform and more to make your workflows even more dynamic. We can't wait for you to use it.
Automate, iterate, accelerate
Your company is fast-growing and always changing. You need a CRM that helps you accelerate, not slow you down.
We've painstakingly-built Automations to be powerful enough to give you full control over your automation process to build incredible new systems. We've also made it's intuitive enough to work right out of the box. Here's how:
A beautiful, powerful visual canvas
With Automations, you can visualize and build out your GTM processes as fast as you can think. It's your toolbox for crafting complex workflows with drag-and-drop simplicity. Map your ideas, trigger actions and see your GTM systems come to life.
You can even build workflows in real-time with teammates, collaborating just as you would in Miro or FigJam.
Out-of-the-box power with templates
Want a quick start with your automations? No problem. Easily implement pre-built workflows tailored for both sales-led and product-led strategies.
Dive into a library of over 20+ ready-to-use templates designed for your specific needs, from product-led growth to sales-led growth, RevOps, deal flow and beyond. Tweak them as you go to create your perfect automation setup.
Integrations with Slack, Outreach, Mailchimp and more
We know that automations and workflows can't happen in a vacuum – so that's why we've built five out-of-the-box integrations with some of the popular tools in today's stack, including Outreach, Slack, Mailchimp, MixMax, and Typeform.
We also have a "Send HTTP Request" block that allows you to send data to and trigger events in any other tool in your stack.
That means you'll be able to automatically kick off email sequences, natively integrate form submissions, and fully integrate your automations into your stack.
Finally, your automations can also respond to triggers both inside Attio and from other tools in your stack.
Attio AI: Bring unstructured data into your automations
When we were building out Automations, one key insight guided us: next-generation automation isn't just about replacing manual steps, it's also about amplifying human capabilities. What if you could automate tasks that require a human touch?
Enter our AI blocks. These aren't just LLM prompt blocks – these are custom-built to seamlessly weave unstructured data directly into your workflows. The idea here is to turn AI into a tangible asset that make your GTM operations smarter and more efficient. Here's how:
Classification blocks
Our Classify record and Classify text blocks allow you to automate data classification tasks that previously could only be done by humans. Simply enter your categories, and the AI block will sift through your data to classify it according to your instructions.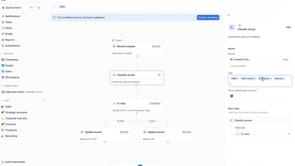 For example, you could set up Automations to automatically classify new inbound leads to check if they fit your ideal customer profile or not. This greatly reduces the time your sales team needs to spend on prospecting new signups, greatly increasing efficiency at the top of your funnel.
Record summarization
Our Summarize record block allows you to quickly pull out key information from any record in your CRM and use that in your workflows.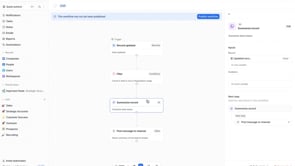 Imagine this use case: a deal moves to the negotiation stage of your pipeline. You can set up an automation that pulls the most critical details about the deal–like client name, deal size and key terms– and then shares that summary automatically in your sales team's Slack channel. This gives your team an instant, clear view into critical deals without having to chase down teammates for an update.
Prompt completion
Finally, our Prompt completion block allows you to incorporate any prompt into your workflow, giving you free reign to utilize OpenAI in your systems and processes.
From zero to one
We build Attio for you – the builders. It's your toolkit for propelling your business to its next phase of growth.
Whether you want to create systems from scratch or tweak a pre-built template to perfection, the choice is yours. Our customers are already taking full advantage of Automations' flexibility and power to do things like:
Surface customers with promising upgrade potential based on their product usage.

Run a highly automated Customer Success pipeline that leverages subscription and product usage data so regular check-ins and at-risk accounts never fall through the cracks. Its like having an extra pair of hands on their team.

Develop real-time, weighted sales forecasts that adapt to every twist and turn in their pipeline.
Great businesses aren't off-the-shelf. They're custom-built. We're firm believers that it's not enough to just build efficient, automated systems. You have to be able to build systems that truly match your business and can help it get to the next level.
Automations is our stake in the ground on that position. We massively rely on it internally: we've built out a completely custom engine built specifically for our own needs. We use it for everything, from managing lead assignments to monitoring product usage for new upsell opportunities to broadcasting MRR changes right inside of Slack. Automations is not just a feature to us — it's integral to how we operate.
Getting started
Attio Automations is available for all customers starting today. To get started, check out our getting started guide.