Following OpenAI's launch of ChatGPT, there's been a surge of AI technology adoption across various sectors. While there are concerns about the dominating potential of AI, its advancements offer invaluable benefits when used effectively. With these new AI-enhanced innovations, many aspects of your operation can be streamlined more effectively, leading to enriched user experiences and impactful GTM plans.
Navigating the challenges of startups can be difficult, but our goal is to be by your side as you build your business from the ground up. To help realize your full potential, we have leveraged the power of AI into Automations so you can improve your efficiency and boost the success of your GTM strategy.
1.Add closed deals to MixMax with AI
Use the add closed deals to MixMax template
This template merges AI capabilities with MixMax and Slack to create a unified process for prioritizing deals. Equipped with the AI summarization block, you can feed prompts to the generator just as you would on ChatGPT, and receive insightful summaries about each deal directly in Slack. These insights will be paired with buttons containing action points that are synced with your MixMax sequences, empowering your team to craft suitable communication plans for every deal.
2. Monitor product package changes
Use the product package change monitor template
Understanding your customers' product preferences and how they change is crucial, not only for insights into PMF and user behavior but also for identifying potential upselling opportunities. To free you from the stress of manually reviewing your records, we have created a template that can automatically summarize and notify you of your customers' product package changes in real time. Our AI summarization block further simplifies this, crafting detailed customer product change overviews based on a prompt you provide.
3. Track subscription changes
Use the subscription change monitor template
Just as it's crucial to keep tabs on product package changes, it's equally important to remain updated on your customers' subscription status. This not only helps gauge their engagement and preferences but also serves as an early warning system for potential churn risks. To help you manage your customer relationships more effectively, we've developed an automation template that seamlessly tracks and instantly notifies you of any shifts in a customer's subscription status. Aided by our AI capabilities, this workflow doesn't just inform you of a change, but it can provide you with as much context as you need. For example, you could use AI to summarize why a customer has changed their subscription and understand the nature of the change. With these timely insights, you can spot trends and precursors leading to subscription changes and promptly intervene to reduce churn.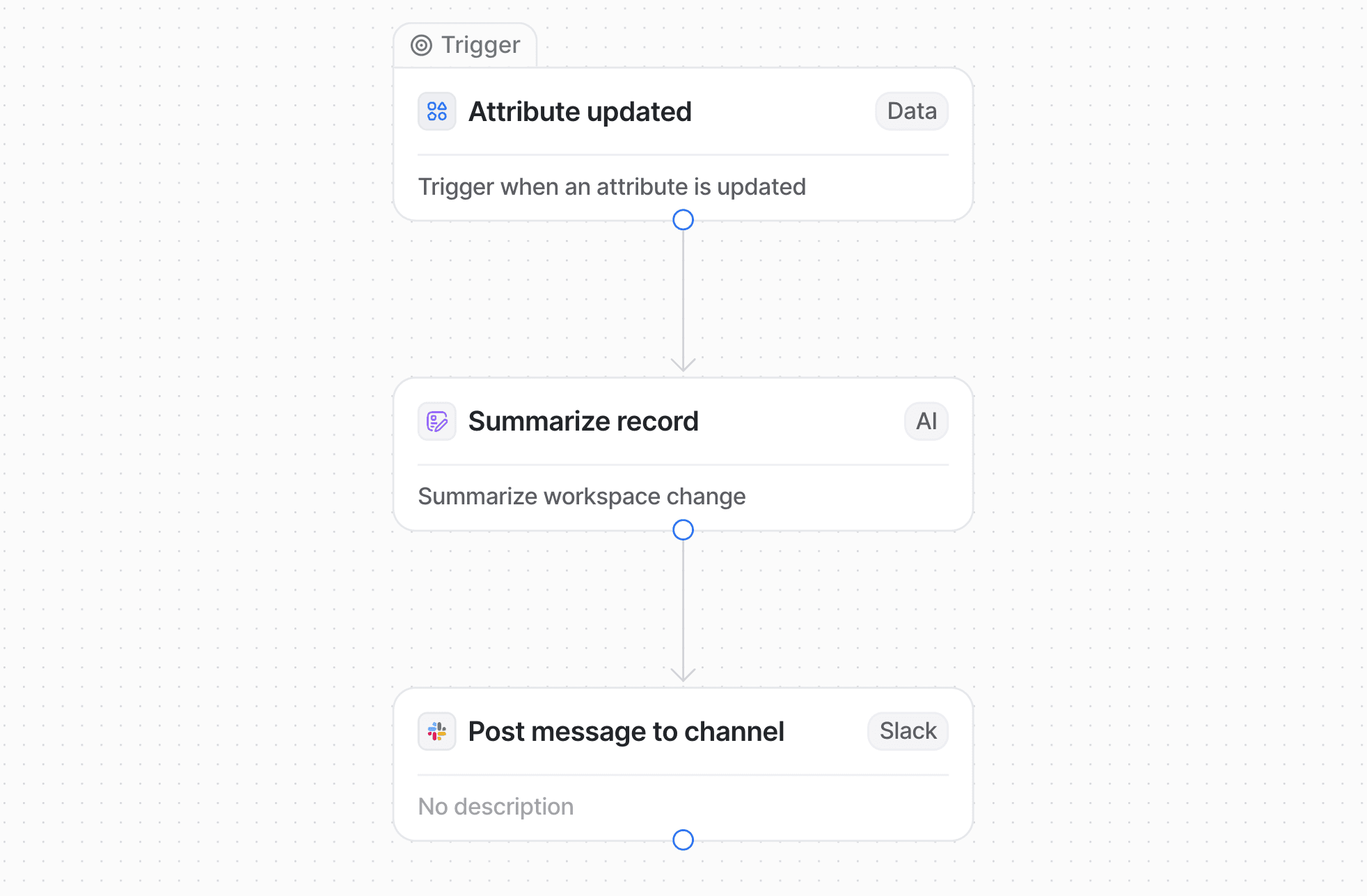 4. Get AI-generated summaries for your lost deals
Use the lost deal summary template
Learning from failures is a crucial part of understanding how your GTM plan is going. While it is disappointing to lose deals, every lost deal holds insights that can shape future strategies and prevent recurring pitfalls. With this template, you'll receive real-time, AI-generated summaries of your lost deals, giving you a concise breakdown of what may have gone wrong. Instead of searching for the reasons behind all the lost deals in your extensive list of records, you can now get straightforward outlines right in Slack. Use this template to transform every setback into an opportunity for growth, refining your approach one lost deal at a time.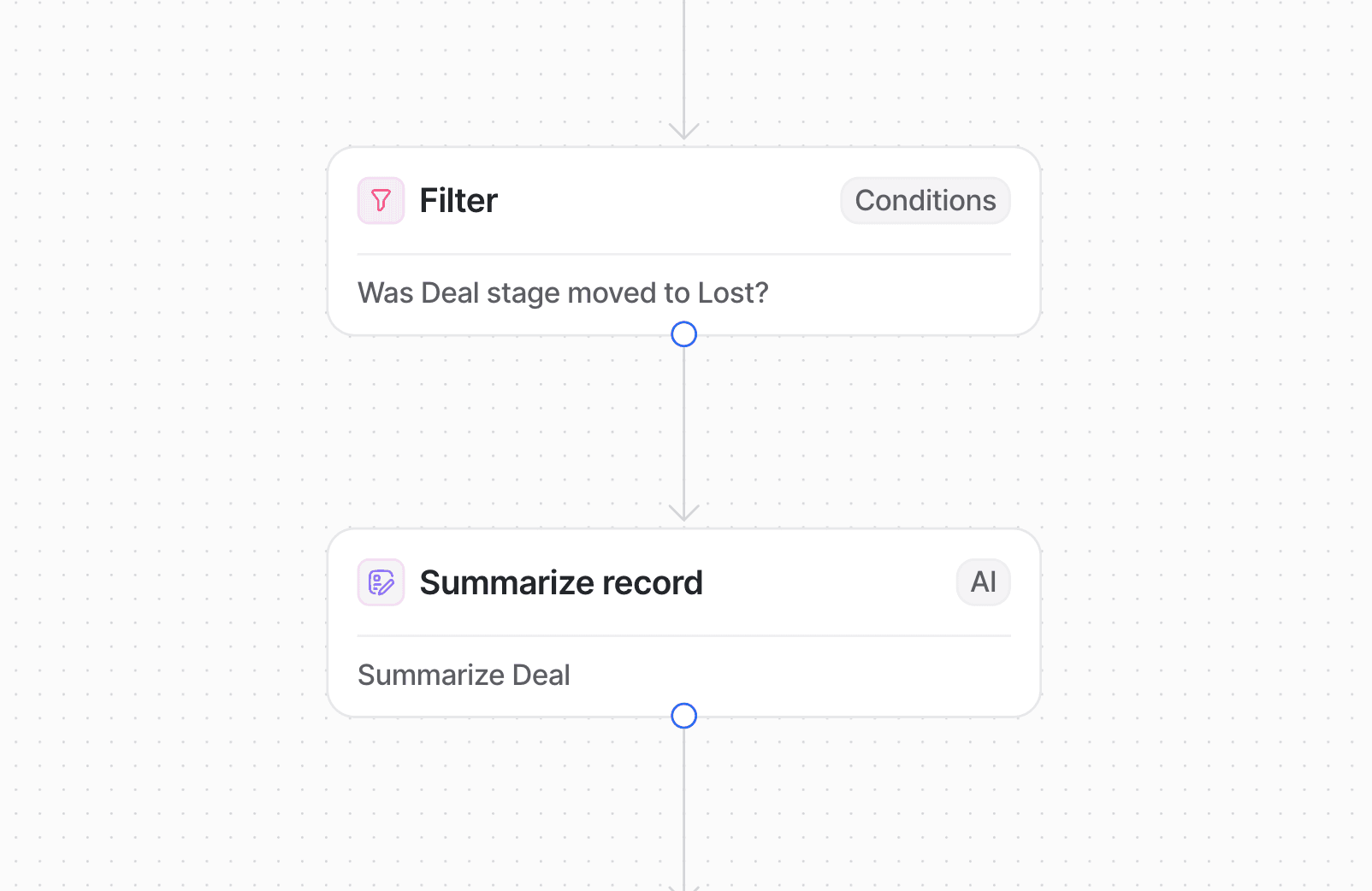 5. Celebrate with AI-generated summaries for your won deals
Use the won deal summary template
In a stressful and fast-paced environment like a SaaS startup, celebrating won deals is often overlooked. However, acknowledging your wins can help understand your strategy's success and build a positive culture. With the won deal summary template, you'll receive real-time outlines of your accomplishments, ensuring you stay informed without having to sift through endless records. You won't even have to draft the message, as the embedded AI generator will do that for you. By using this template, you can effortlessly see what works and celebrate your successes.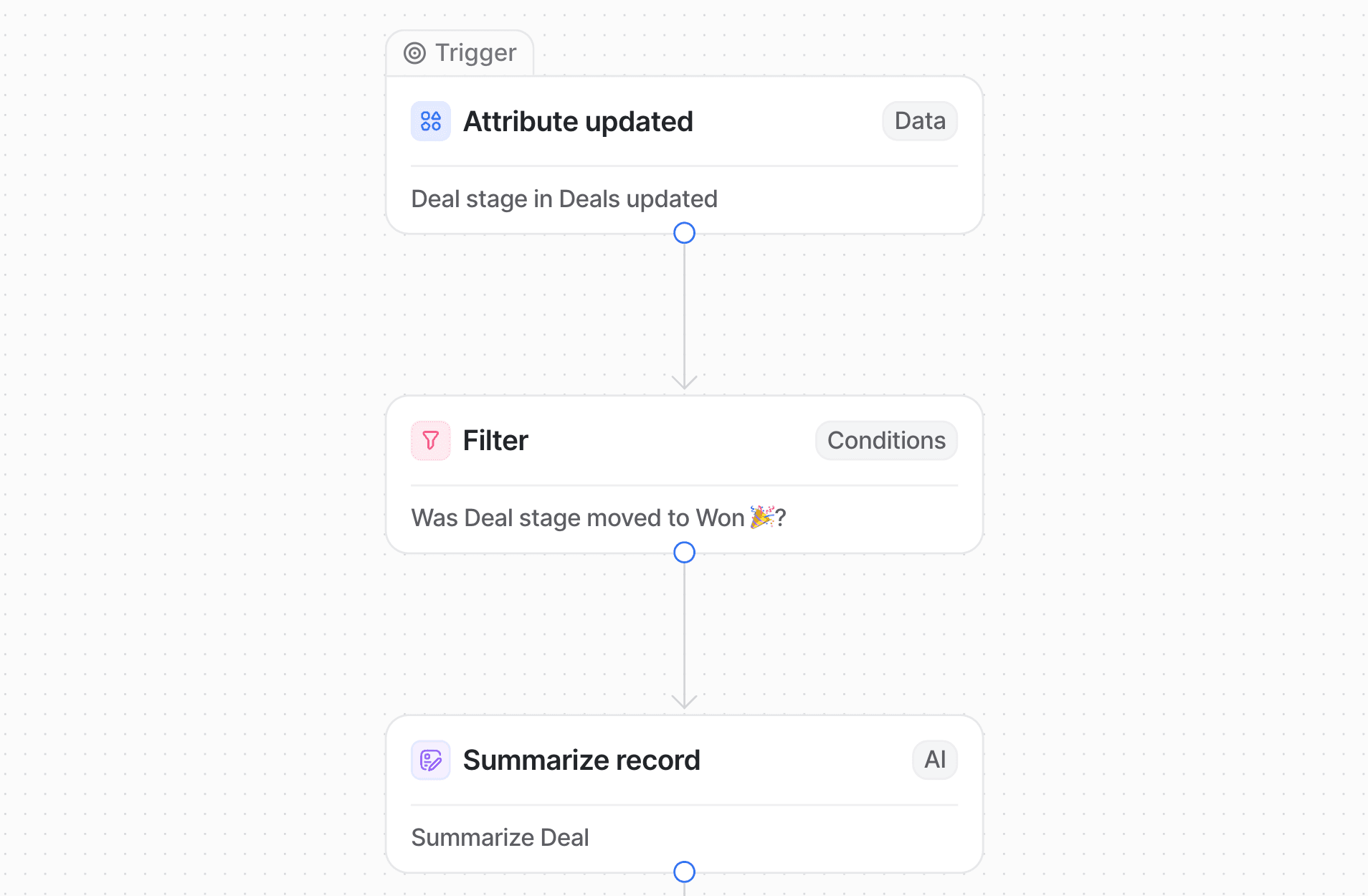 Unlock the future of SaaS with AI workflows
With the growing prevalence of AI in every sector, it's important for startups to harness its potential to their advantage. Whether you're aiming to enhance your sales tactics, monitor product performance, or gain insight from deals, our AI-enhanced workflows can help enhance your GTM and operational strategies to optimize your success.